THANK YOU RIDEMAKERZ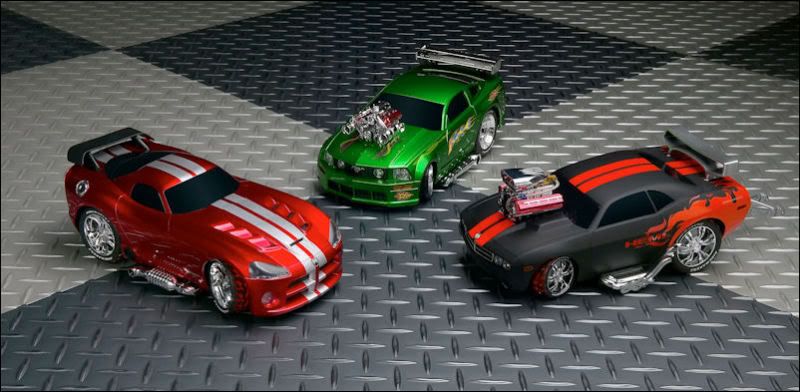 I was recently invited to attend a bloggers event for local Indiana bloggers. Natalie, of BSM Media, contacted me on behalf of their PR firm and invited myself and my family to this outstanding opportunity hosted by RIDEMAKERZ at Castleton Square Mall here in Indiana. Lucky for us, this event was held on our new side of town so it was extremely convenient to attend.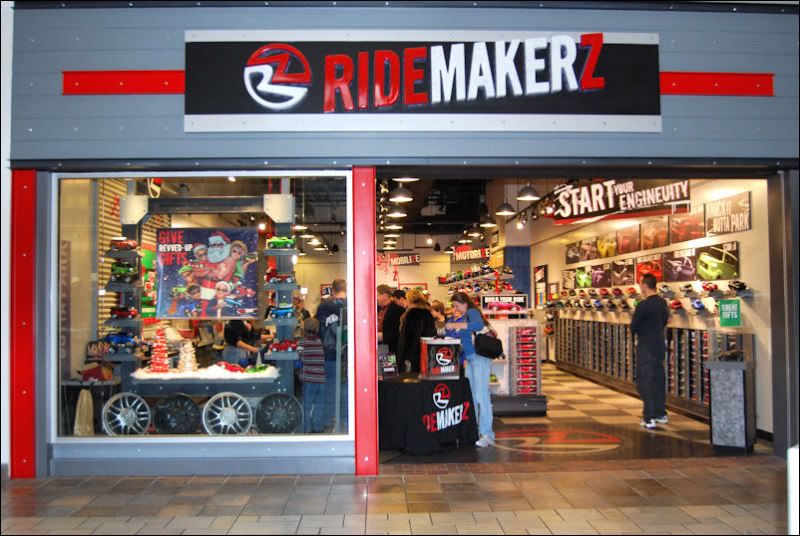 Unfortunately, I didn't know what RIDEMAKERZ was until today. We've passed it 100 times when in the mall but I always breezed right by, assuming it was a store that sold model cars or die cast kits that you purchase and take home to build yourself. Boy was I wrong.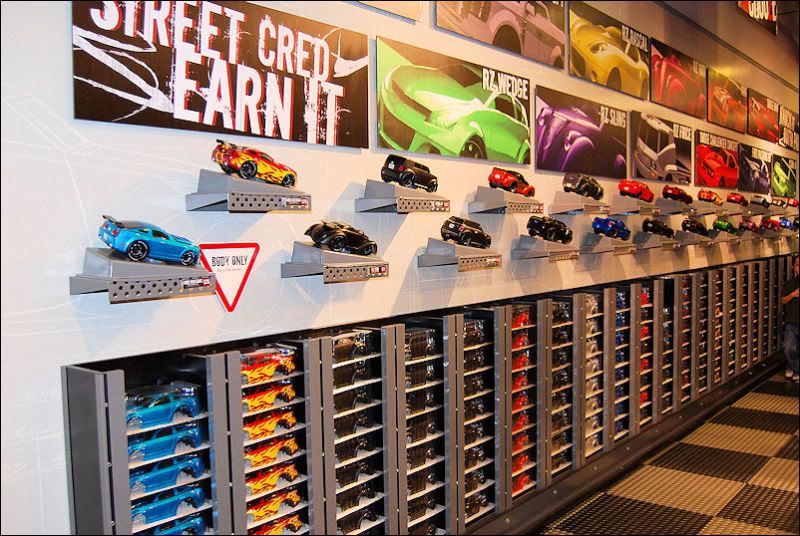 Think build-a-bear for boys and even men. Basically, you go in - pick a car - and build it from scratch while in the store. When Natalie invited me to this invent, I was totally clueless as to what all was in store. She explained that they were trying to reach bloggers in the area who had sons in the age 5-13 year range. Beings that Brennen fell in that category, this was a really fun outing for us. RIDEMAKERZ gave every bloggers family free passes to come in and make cars for each person in their family. They literally handed me $300 (Yes, $300 - $75 for each person in my family) in gift cards when I signed in and said..."Have fun!" And boy did we ever! I was astonished at the generosity from RIDEMAKERZ and their incredibly friendly, helpful, and knowledgeable staff that lead the four of us thru the RIDEMAKERZ process. Natalie and her awesome PR staff were there snapping pictures of the big event and all of the Indiana bloggers who participated. Natalie pulled me aside and whipped out her little hand held video camera and asked me for a quick interview regarding the fun we were having and how the event was going. I was happy to give my two cents and let them know how much we were loving our invitation there today.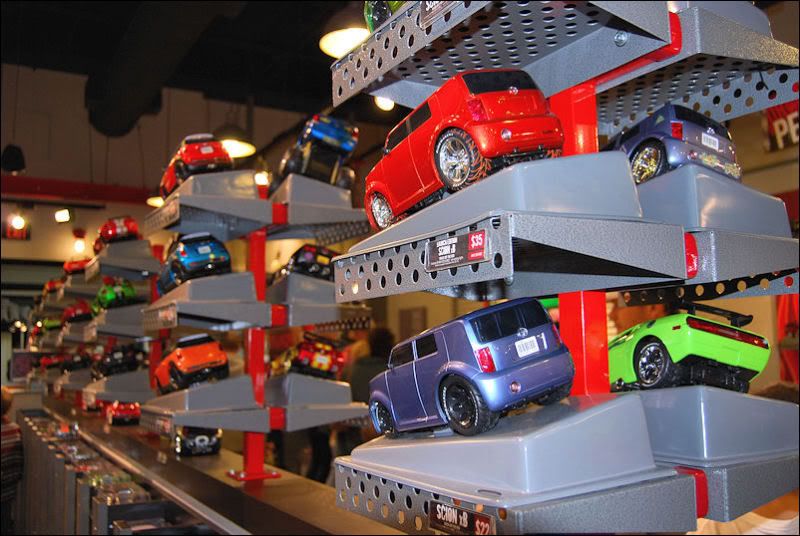 If you keep reading, you'll discover the absolute BEST part to the entire day - and yes...it could potentially involve one of you.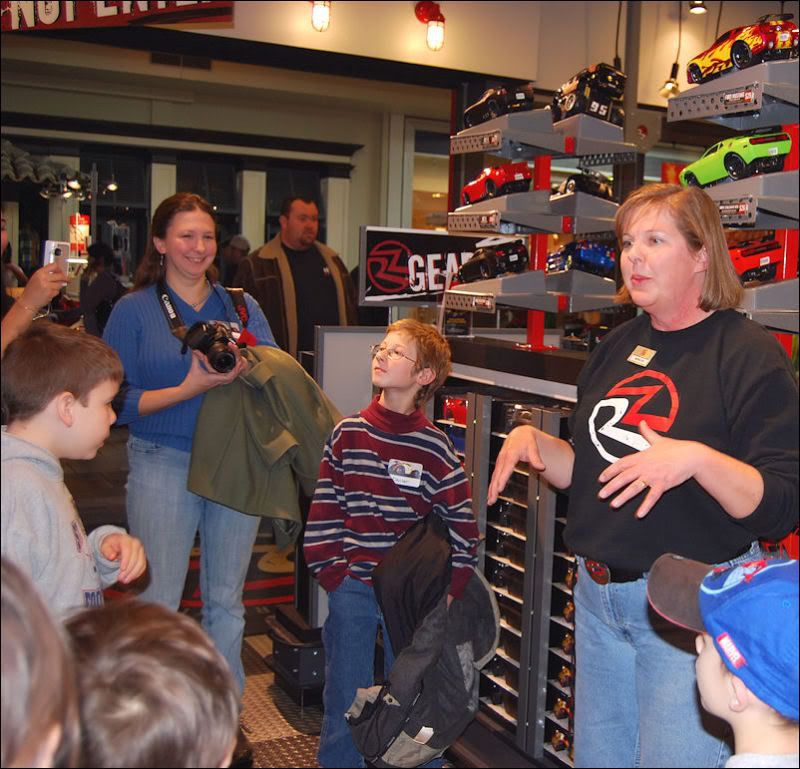 This image above was of our guide getting the kids started. You can tell there were a bunch of "bloggers" in the store - we all had cameras flashin' every which way. I totally recommend this store to any young boy between the ages of 5 and 15 years old for a ROCKIN' Christmas gift. Do you have a boy on your list that you don't know what to get for him? If so, go to your nearest RIDEMAKERZ and buy him a gift card for this place. I promise you he will LOVE it! It's also a great Dad/Son event. We had fun as a family there too - even me - good ol' Mom - playing with cars. Pink cars. With wings! Oh yes...Brent found me some wing stickers for Kenidi's pink car. Too fun! So us!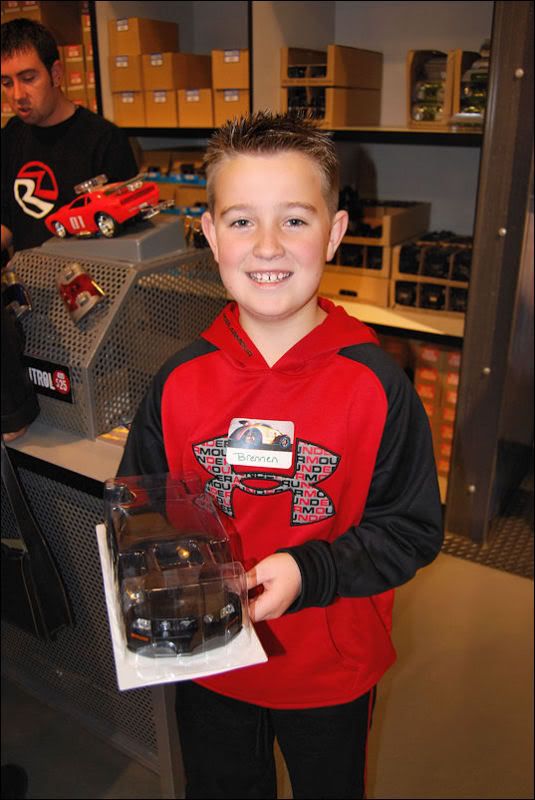 Brennen picking out his "shell" for his car. He picked a black mustang.
Brennen with some of the awesome staff at RIDEMAKERZ as they are helping him to get his remote control device and car sound (yes you can put sounds in it just like Build - a -bear only they are sounds of zooming, squealing tires, or sirens off police vehicles) placed inside the shell of the car.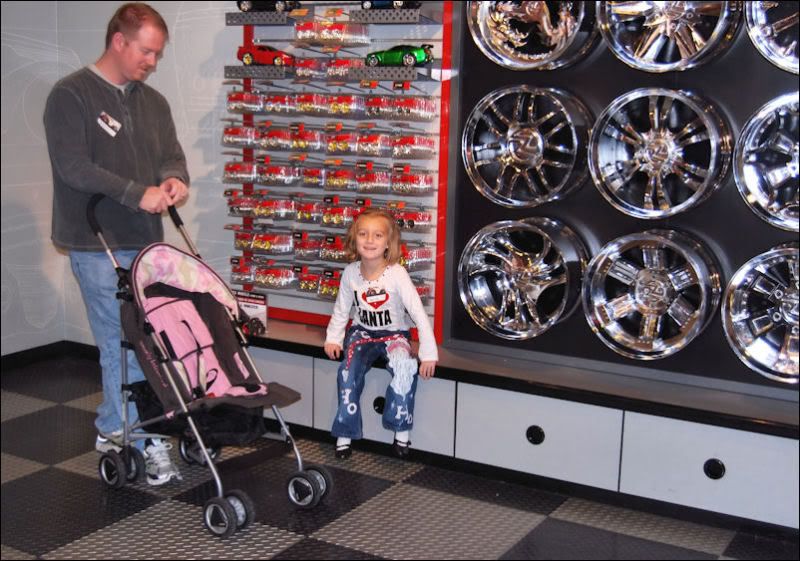 Kenidi chillin' with Daddy for a sec...
She loved all of the lights, colors, and shiny things in the store itself.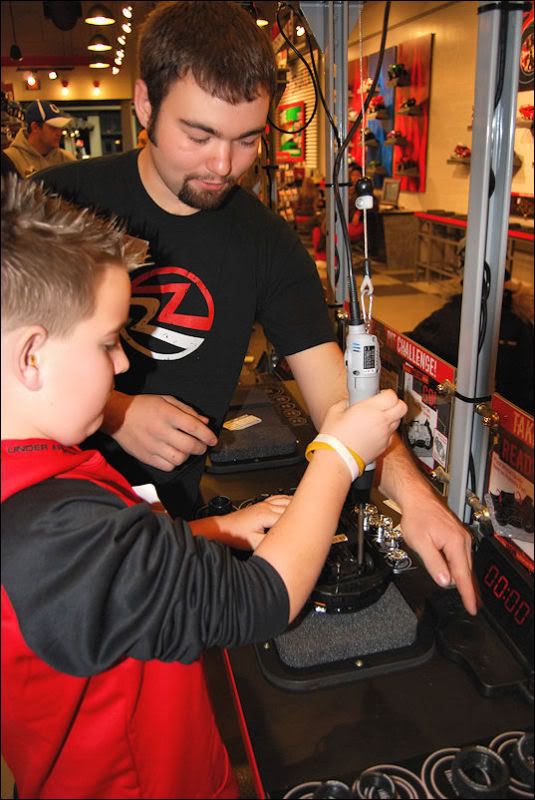 The boys actually get to be timed in order to see how fast they can drill down their chassy of the car and get their wheels on. Brennen had a ton of fun with this part. We let him do Kenidi's too. Again, the staff was so fun and helpful during each step as well.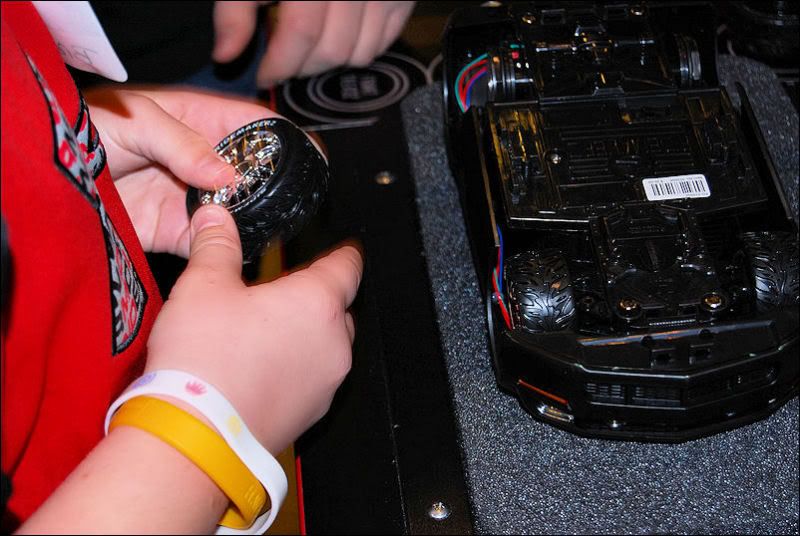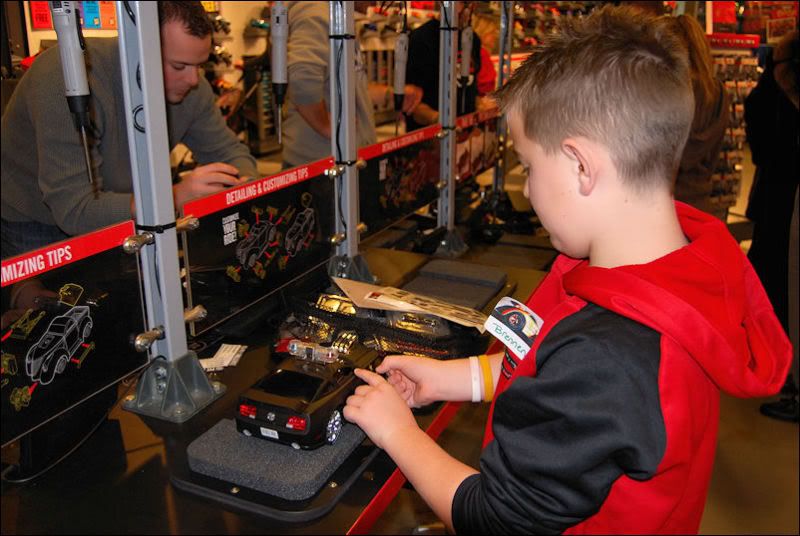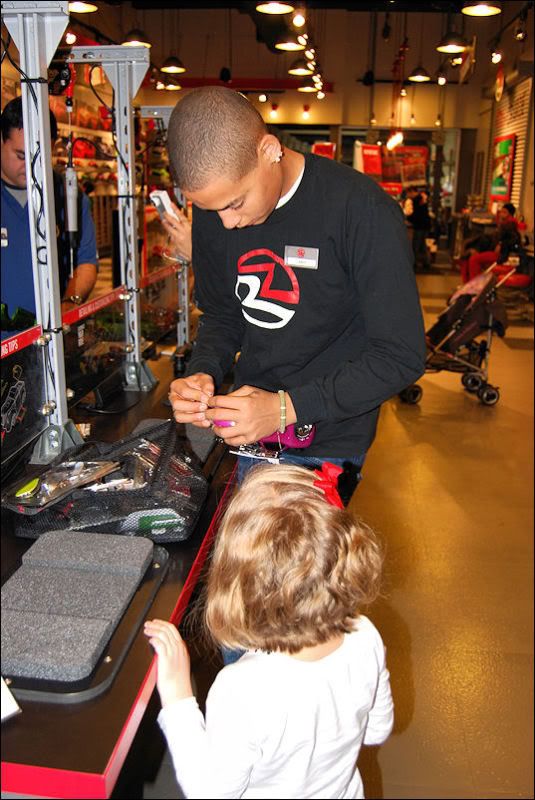 A staff member in the image above - helping Kenidi get all her accessories put on her car. (i.e., grill, neon purple lighted running boards, her wing stickers, a new grill, a chrome fin on the back, etc.)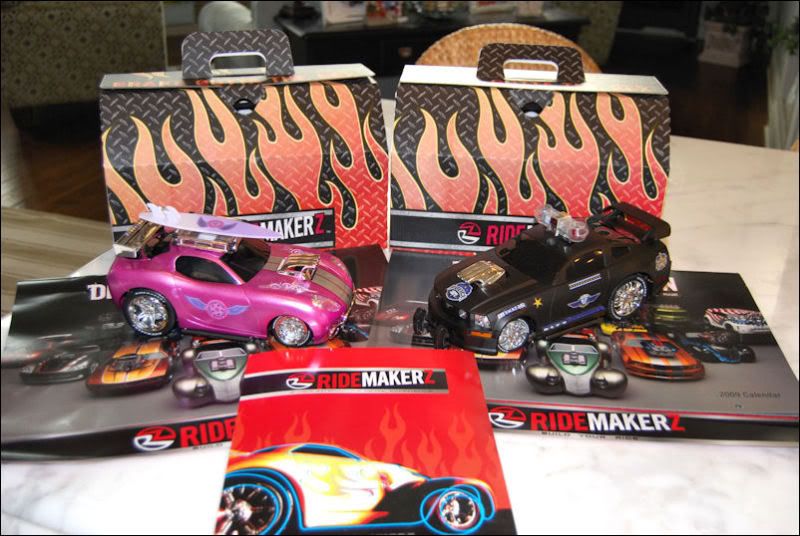 Here is a quick glimpse at both cars once finished and once we got them back home. The pictures don't do them justice. They are much larger in person that what my images portray. They are each about a foot long and maybe 7 inches wide or so. (approximately) They really are good size cars. Here are some close up shots of Kenidi's detail on her car.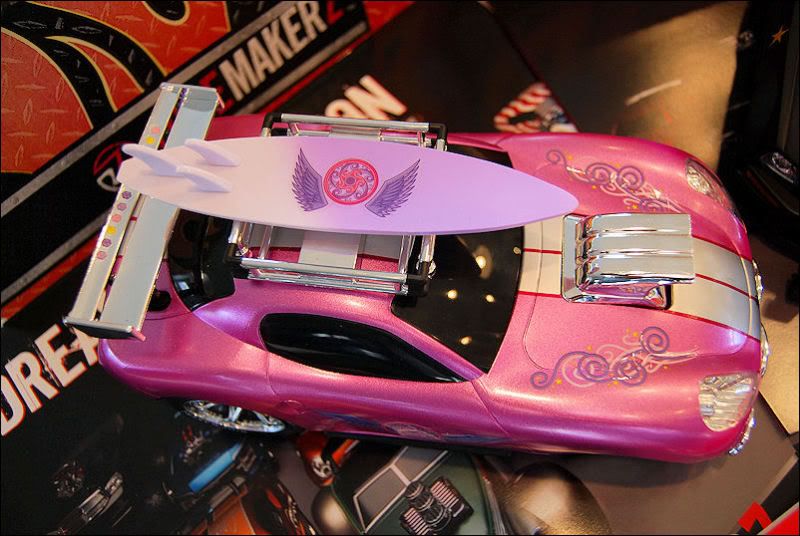 Don't ya just love the surf board on top? So beachy - so Mommy. Then, we added the wing stickers to the car and the surf board itself. It couldn't have been more us.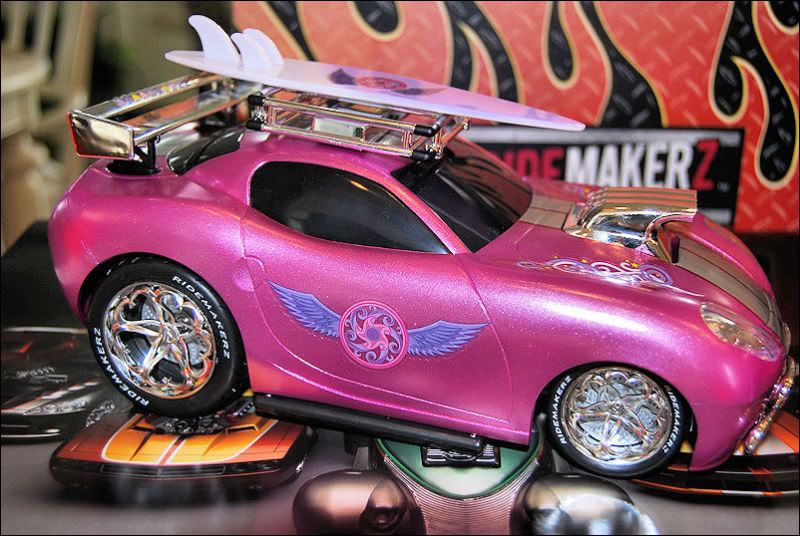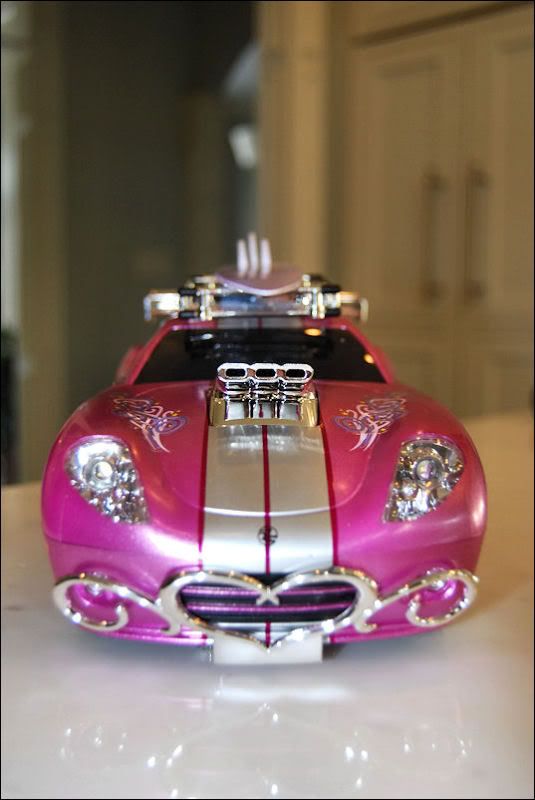 Lovin' the heart grill. One of the staff members helped us pick this piece out. It was perfect for Kenidi. (and Mommy) Now...check out our custom made license plate in the picture below...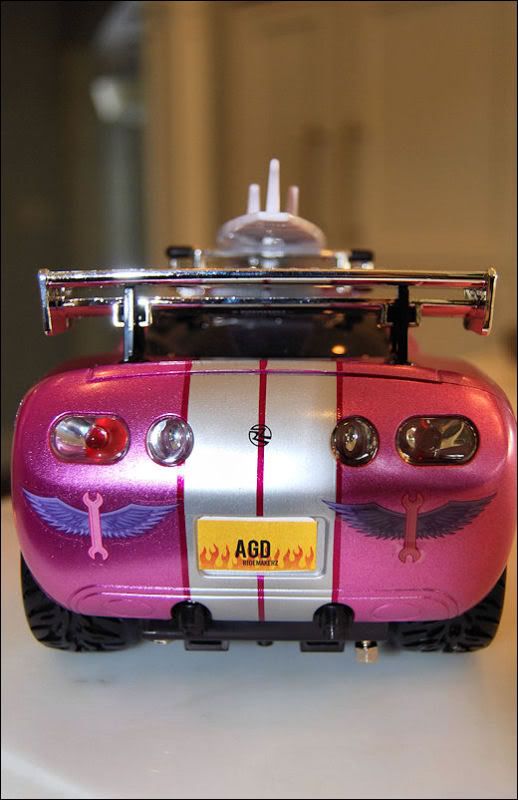 Oh yeah...AGD rockin' the house.
Brennen did a SWAT style mustang so his license plate read SWAT.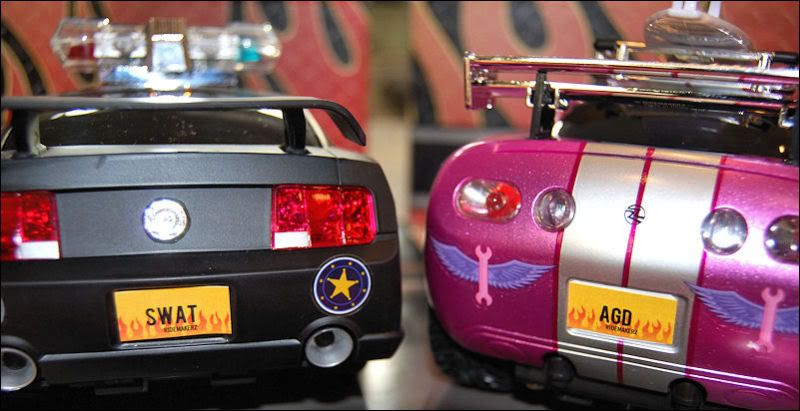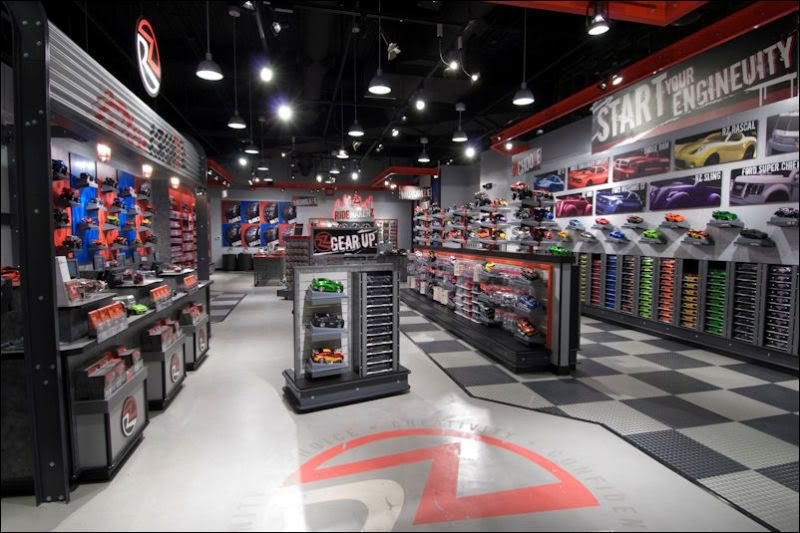 A view of the inside of a RIDEMAKERZ store...
The BEST - and I mean BEST part to this day was the fact that as I was getting ready to leave the store, RIDEMAKERZ and Natalie's PR staff handed me a press folder that also included a $75 gift card to give away here on my blog - yes...to give away to one of YOU! How awesome is that? I'm tellin' ya...these people were incredible. I'm so appreciative and so very blessed to have been able to take my family and participate in this event today and even more blessed to now be able to include my blog readers in the great fun as well. So...how do you win this $75 give-a-way gift card for RIDEMAKERZ? You just have to leave a comment below here on my blog. If you post this give-a-way on your own blog - linking your own blog visitors back to my blog, I'll give you another 5 chances to win this hefty gift card. Just leave me a comment and then also let me know that you posted it on your own blog. Once you have, we'll give you the one chance just for commenting here and then another 5 chances for posting the give-a-way on your own blog and linking it back to mine. PLEASE NOTE: You DO NOT have to be a blogger to participate. You can be a blog reader/visitor but not have a blog and still play to win. You just have to leave a comment like everyone else though. I will hold the drawing this coming weekend - on Saturday, the 13th. You have up until Friday nght (the 12th) at midnight to leave your comment. If you are wondering whether there is a RIDEMAKERZ location near you, feel free to click
HERE
to find out. They actually have locations nation wide.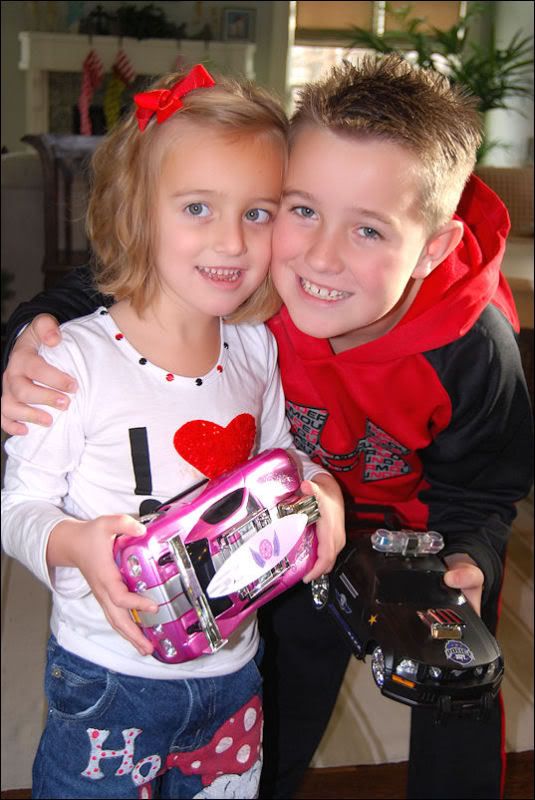 Lastly, before I sign off here for tonight, I just had to thank the RIDEMAKERZ staff as well as Natalie and her staff one more time for inviting us to this awesome event. It was great fun to meet other fellow Indiana bloggers. I actually met Amy from the
4th Frog blog
when there too. It's so great to put a face with a name. We are so appreciative and beyond grateful for being given this opportunity and for the $300 in gift cards for my own family as well as the $75 gift card to give-a-way to a member of my blog family too. We actually left there with money left over on our gift cards and Brennen was beyond pleased about that. He cannot wait to go back again and do some more car building on another day. I heard him say to me on at least three different occasions this afternoon "
What an awesome day he had there
." He kept thanking me and I reminded him that those were the perks of having a Mommy who blogs about him and snaps his pictures so much for the blog itself. Maybe now he'll be more cooperative during future photo ops. Doubt it! It was worth a shot though, right? :)
Now...for those of you hoping to win this $75 gift card, get to commentin'! ;)
Much love, Angie
PS...No, this is not the AGD 555th give-a-way prize. I will be posting it tomorrow (Monday). Feel free to comment on both give-a-ways in an effort to win both prizes. You are eligible to participate in both celebrations if you'd like.
Labels: AGD Business, personal