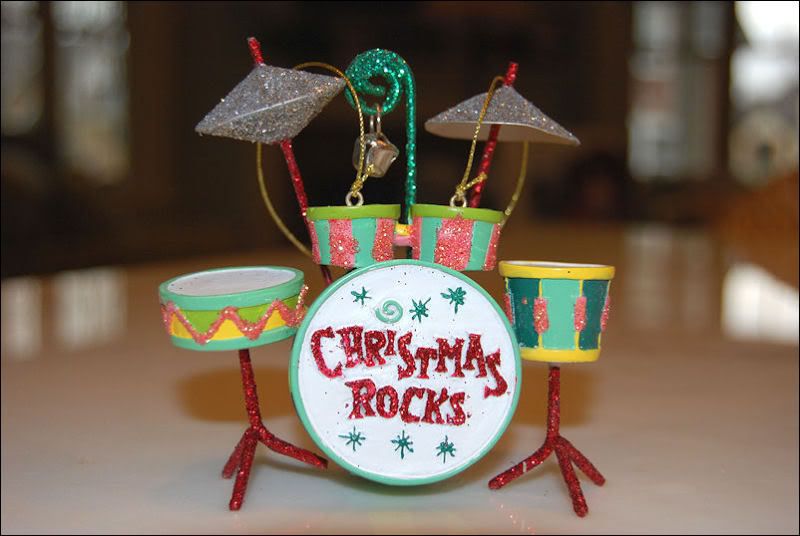 Oh how I love this ornament (shown above) this year. It's one of my new finds for our collection and it happens to be one of my fav's aside from the beach ones I found this year too. It pretty much sums it all up - Christmas ROCKS!
It has been an extremely busy weekend with no rest for the weary. Friday night we enjoyed a delectable dinner with my brother & sister in law and another couple at Flemings. I love that place and their chocolate java dessert too. YUM! Saturday Brennen had a basketball game and then later that evening we had our friends, The Gray's over. They brought in these incredible brownie pops for us all decorated in cellophane with a red ribbon and in a tin. I love when people bake this time of the year and then proceed to bring me their baked goods. Life couldn't be better. Ha ha!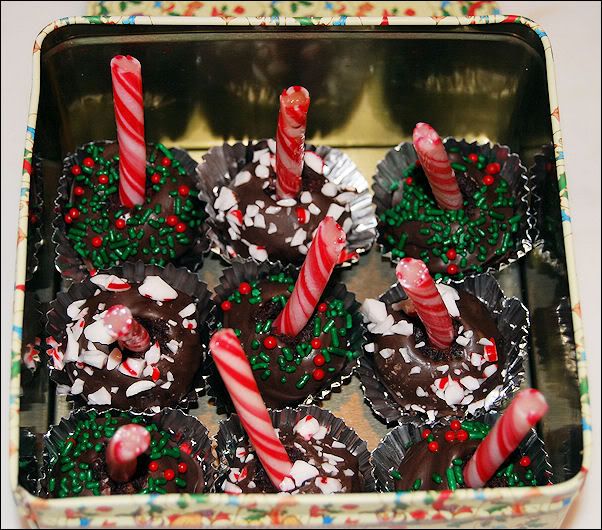 Look at these things...aren't they just GRAND? Brownies baked and then drizzled in chocolate. Oh my wholly heavens - Tamara sure does know Angie's loves. Chocolate, chocolate and more chocolate. :)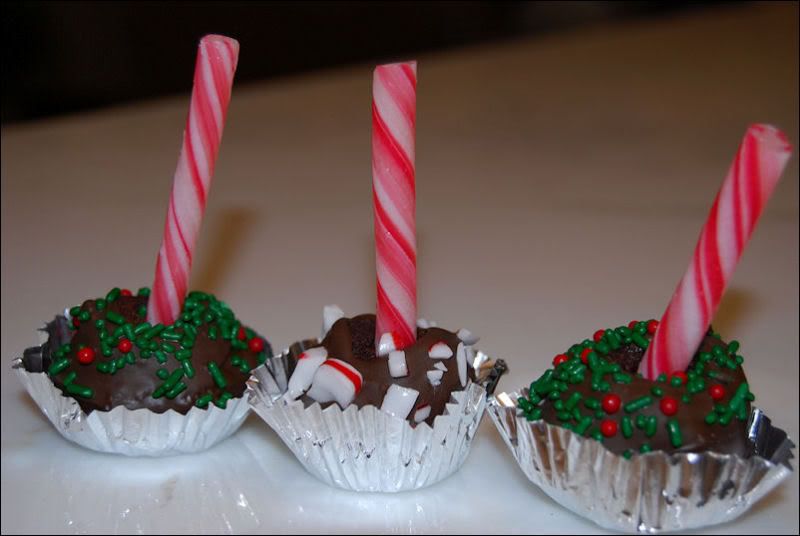 Tamara and Joe took us to that light show at the home of their friends that they work with. (Tom and Allison) If any of you are from the North side of Indy and would like to take your kids by to see it, it's worth the experience. Our kids thought it was great. The address is 15131 Senator Way in Westfield. Their home is in Village Farms off of Spring Mill Road. The lights and how this home is synchronized to music amazes me. We were blown away. They really put a lot of work into this light show and it was evident during the 23 minutes we spent in front of their house watching it. If you aren't from Indy but would like to see the show, you can view a small part of it here...on youtube.com. Make sure to scroll to the bottom of this blog page first though and pause the music on my playlist before pushing play on this video below. I want you to get the full effects of it all. Make sure to have your sound turned up...
Thanks Tamara and Joe. We had a great night - as always. I hope you loved Talledega Nights in the theater with us as much as Brent always does. Ha ha!
Lastly, we spent Sunday having our Christmas in the morning together with the kids and then two other Christmas gatherings with our parents in the afternoon and the last one last night. Unfortunately, the only down fall to the day or the weekend in general was that Kenidi is now sick. Late Friday night she came down with some croupy sounding nasty stuff in the middle of the night. By last night, she was running a 101.2 fever. She looks and sounds absolutely miserable. It was unfortunate that of all weekends or all days for her to be sick, it was on her scheduled "Christmas" day when she'd be opening gifts and such. She did her best but she was totally not her normal self. I have her home with me today from school and thankfully she is resting again. She has a doctor appt. at 12:45pm today so I pray he can give her something to help her get over this quickly. The last thing we want is her having to fly early Friday morning being under the weather when we head South to the beach. Please pray for her and a fast healing. OK? We'd sooooooooo appreciate it.
Other than that, our Christmas day (so to speak) went exceptionally well. It's always great to spend time with family no matter what day it is. The kids got spoiled - as always - by their grandparents. And OK...Mom and Dad did a bit of spoiling on them too. We confess. Mommy got spoiled as well. I'll have to share a couple of my gifts from Santa with you all later in the week. Let's just say that Mamma is a happy girl. ;) Wink wink! My husband, my parents, and my in-laws are way too good to me.
For now though, I'm off to go take care of this sick baby girl of mine before we head to the doctor. I'll touch base again soon. I have so many things to blog about or post images of but I'm short on time. The blog material is back-logging. HA! Between packing our suitcases and doing the normal routines this week before our departure early Friday morning, it appears as though it is going to be mass chaos at its finest. I hope to have it a bit more of what I'd like to call "organized chaos" by the time all is said and done though. Wish me luck! All I know is that I can't wait to have my toes hit that sand come Friday afternoon and then plop my big heiney down in a chair at our favorite restaurant by the sea come Friday night. 4 days and counting...
We love ya...Angie