MEET MR. BIG
"BIG PAPPA" that is...
This is "Razzi's" new big brother. Get it..."PAPPA-RAZZI?" Yeah, Karen was the only one who commented and picked up on that last night. Clever, eh? Come on now, work with me here-work with me. When I take pictures, you'll always know who I shot them with - Pappa or Razzi - because of the way I name them. CRAZEEEEE! Just say it-call me crazy. I'm down with that.
First up though, I apologize...I took the images below with Pappa and Razzi's little point and shoot 2nd cousin and lets just say that he is missing some of the family genes that they were both blessed with. He is from the "Canon" family though. We'll leave it at that. :)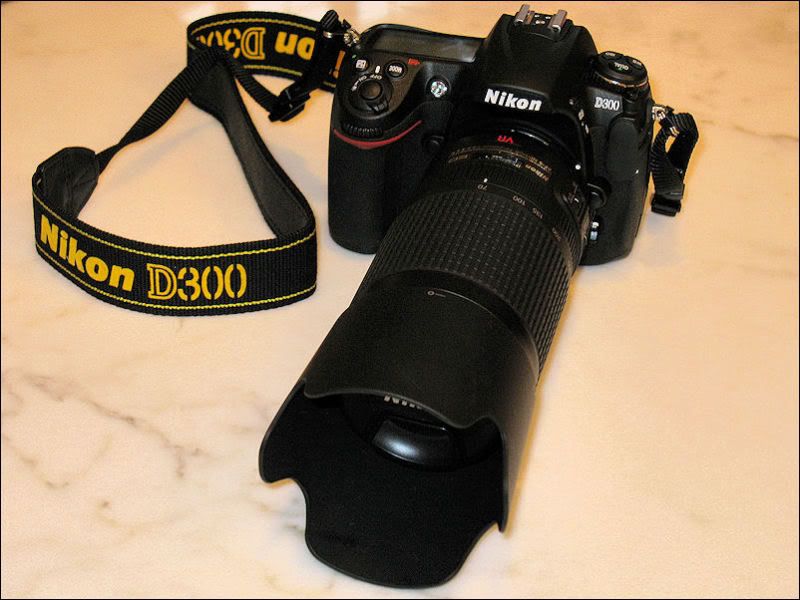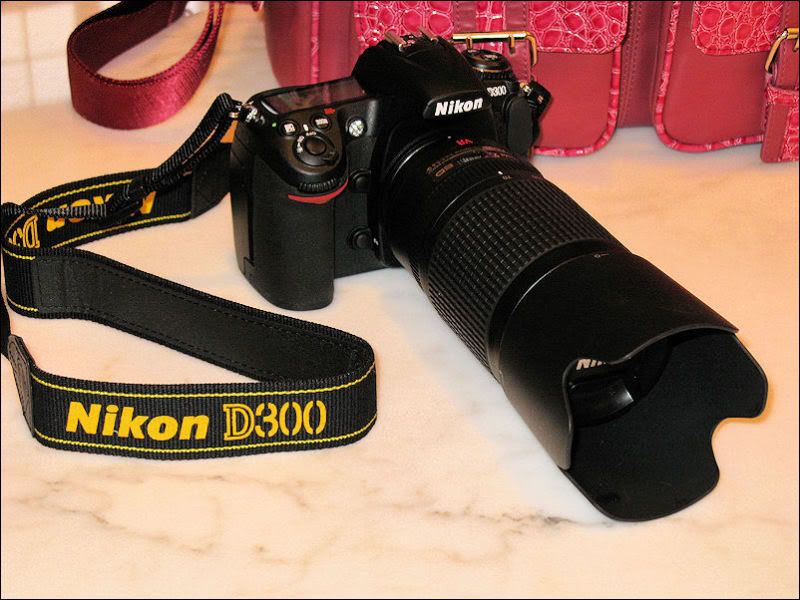 I had initially thought that I would upgrade from my Nikon D40x to the D90 that came out. However, after doing lots and lots of research, I learned that the D90 is on the high end of the "consumer" cameras. I didn't want to just be a consumer anymore. The D90 has a new video feature that I'd never use and is way cheaper than the upgrade I ended up going with. But...it just wasn't the cream of the crop I was looking for. I wanted more. I wanted more power, more vivid color, faster shutters, a commercial design for sturdy durability, live view on the LCD, more ISO power, more white balance options, and so forth . I wanted what the pros have and use. I wanted out of the "consumer end" market and into the professional end. I wanted BIG PAPPA. :)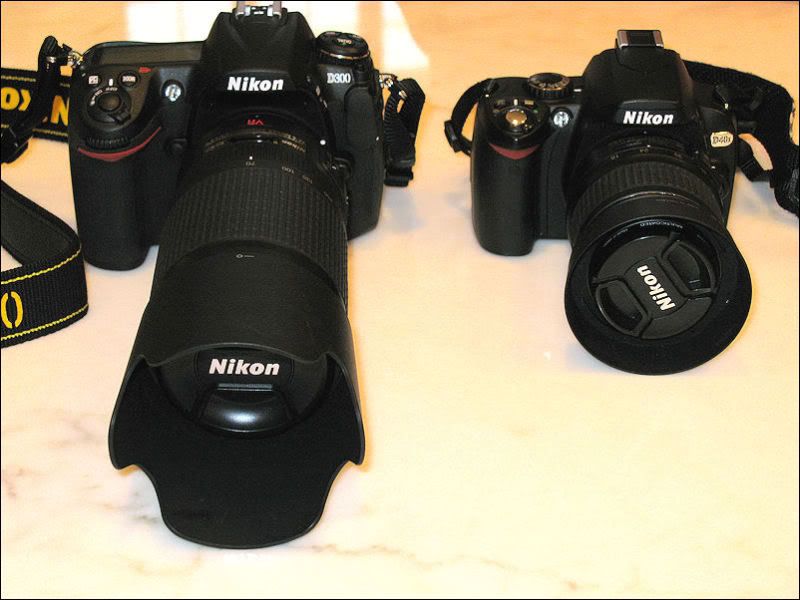 The shear size difference between Razzi & Pappa is amazing. Razzi has and always will be a good camera. Nikon did a good thing when they brought out her consumer end style of DSLR cameras. However, she is really no match and definitely no comparison to what this new
D300
does. I sat and played with it all day yesterday while up and down with Kenidi in bed. (Luckily I think our little sick girl might be seeing light at the end of the tunnel here soon.) It has me challenged, excited, and my heart racing 90 miles a minute.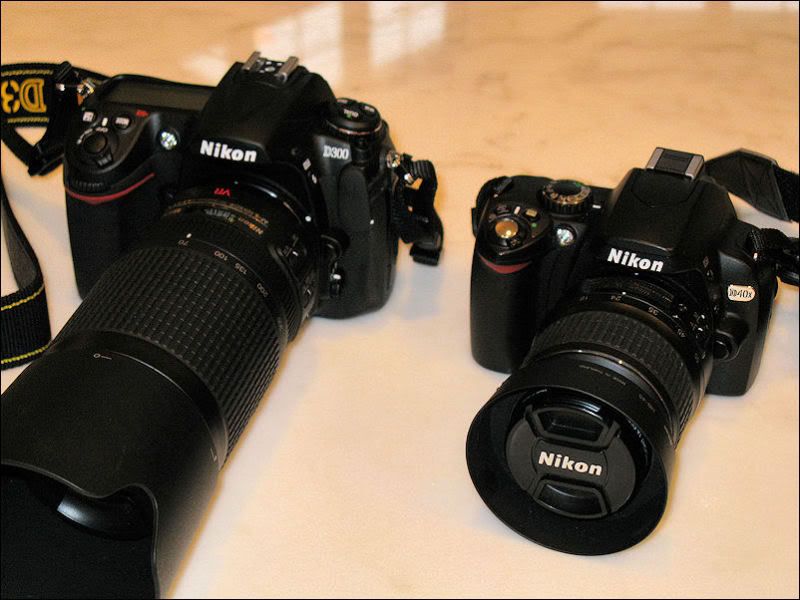 It is going to take some serious getting used to. See...when I upgraded to the D300, I lost all ability to use "my stupid friend Auto." That is right folks...the professional end cameras do not offer "AUTO" modes. Therefore, I can't go backwards. I can only move forward from here. In order to take pictures, I am now required to stop and think with every image shot. What should my shutter speed be, what should my aperture be set at, what do I want my ISO set on, have I reset the white balance, etc. etc. etc. The more I played with it yesterday, the more it clicked and became more second nature. Thus resulting in exactly what my photo coach told me would happen. See...I was convinced at first that I needed to stick with the D90 upgrade option because the consumer end cameras still offer "auto modes." I felt at first that I needed to have that crutch to fall back on when necessary. Not only that but the guy at my local camera store really scared me when discussing going into the D300 because he talked about how advanced it was and all. However, when I sat down at class with my photo coach and told him my reasoning behind possibly going with the D90 instead of Big Pappa (D300), he pretty much gave me a lashing and instructed me to do the right thing. So I did. Big Pappa is now home.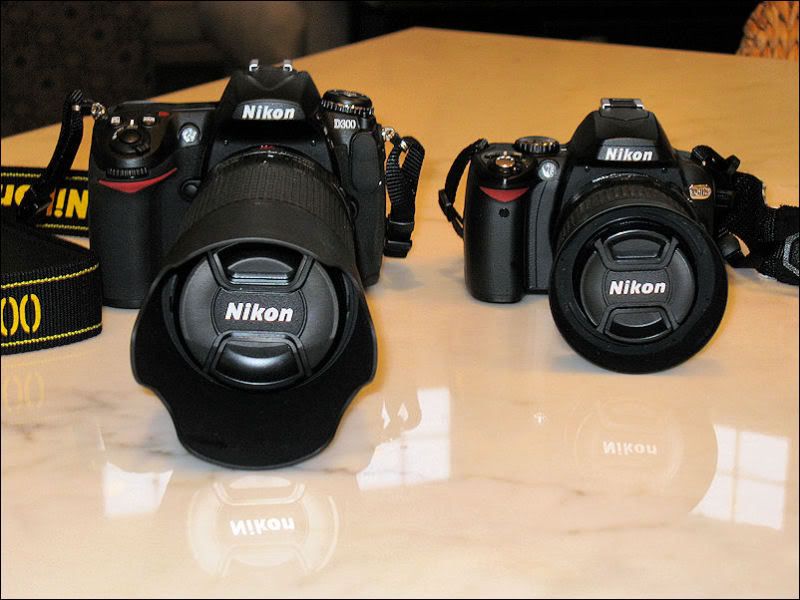 Although I think there might be some sibling rivalry at times, our family is adjusting well. I still have Razzi and totally intend on keeping her. For those rare moments in the future when I do need auto mode, she'll be a great back up camera for me. She'll always be my first born too. She holds a special place in this ol' heart of mine no matter what other brotha's and sista's are born into her environment along the way. In the end, she, big Pappa, and their point and shoot 2nd cousin will be occupying my camera bag together. It's nice and cozy in there to say the least.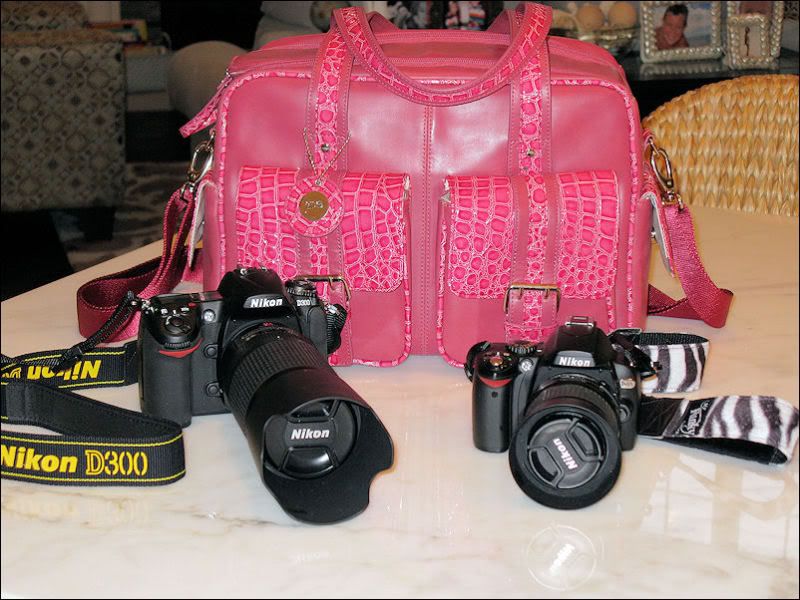 Lastly, let me introduce you to another one of my favorite Christmas gifts this year. This came as a total surprise from Brent and the kiddo's. I knew I needed a new printer and I knew which one I wanted. However, I didn't think it was on Santa's budget list this year. I figured a new printer would be a must in the near future but not so soon. This ROCKIN' new photography printer is so hot that I can hear it sizzlin' as I type. :)
Not only is the EPSON Artisan 800 printer a 5 in 1 with wi-fi Print / Copy / Scan / Fax / Ultra HD Photo, but it just looks good too. You know what I mean...it just screams, "look at me!" The print quality and colors are so vivid and amazing. This gift was the perfect extra to help my images even more when it comes time to print them. It prints photos in as fast as 10 seconds, it prints my company logos right onto DVD/CD's for me , it does two sided printing which is a huge saver of paper, and also has the ability to print coloring books and personalized note paper. The kids will love that part. I know I do already. With a 7.8" touch panel and a 3.5 inch LCD screen, you just can't go wrong with all of this "awesome-ness." A big huge xoxoxo to my incredible hubby and kids for surprising me with this one. Mamma didn't see it coming.
So, as you can tell, I've been gadget busy over the past few days. I feel that I've become a tech-nerd all of a sudden even though I'm truly tech-tarded (as my sewing lady, Karen, likes to say). Either way, my brain has come out of its mush state and been challenged beyond belief in the past couple of months and especially now. I'm armed and I'm sooooooo ready for Spring. What I'm even more ready for though is that flight out of Indy come this Friday morning and the touchdown in South Florida for 2.5 weeks where I can really drag all this equipment out and get busy. Won't you join me? As always, I'll keep blogging while away.
Hugs sista's...
Angie, Razzi, Big Pappa, and the 2nd cousin (what a Christmas card that would make) HA!
Labels: personal, photography