REINDEER FUN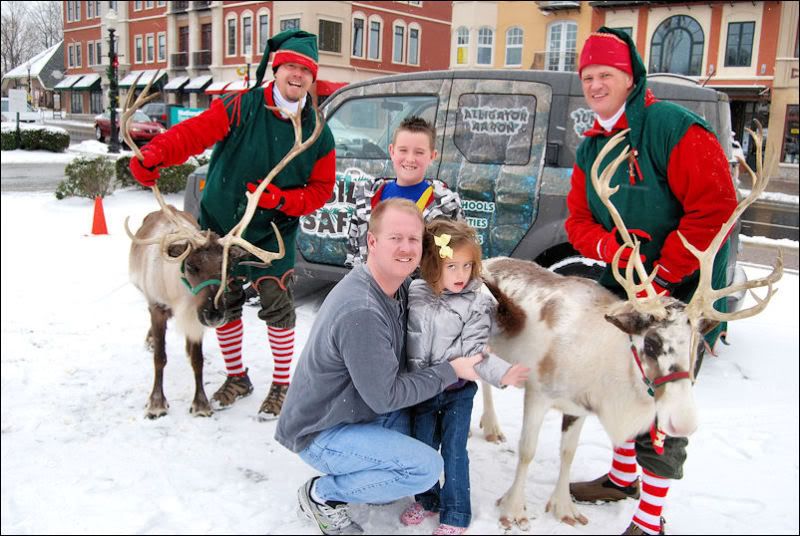 Hi all. Just thought I'd pop on and post these pictures tonight. They were from Saturday right after we left Brennen's basketball game. He was in shorts in the snow - not a good thing. The two elves were teasing him about not being properly dressed. I'm sure everyone driving past thought the exact same thing. Unfit Mom - unfit Mom. Somebody call CPS. Notice I was hiding him behind Brent for the photo op. HA! And take a peeksie at Brent's face in this shot. He is trying really hard to smile. Truth is...he was petrified. Yes, I said petrified. He was scared that Kenidi was going to pull another attack on the animals like she did the parrots when we were in Gatlinburg. Remember THIS? If not, read up on that post and you'll understand what I mean by her attacking the parrots. Notice the look on her face in this shot...? Brent was horrified and in fear for his life. He was for sure that they were going to be "horned to death" if Kenidi yanked on the poor reindeer's fur. Hee hee! It's candid shots like this fast and impromptu pose that leave me laughing when it comes to the memory bank. Geez...I love cameras. I just love photography.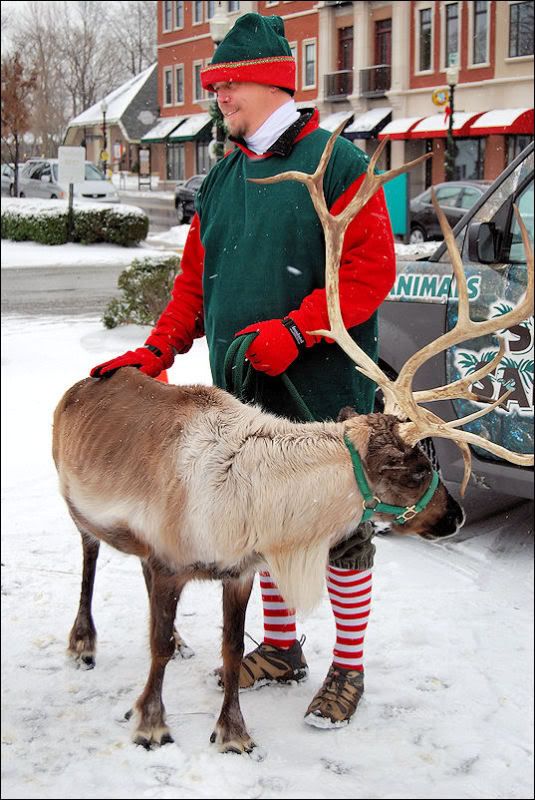 It's been a long day. I feel like I've run a marathon. I did 75% of my Christmas shopping today all in one morning/afternoon. We are having all of our Christmas get togethers this weekend with both sides of our families as well as our own Christmas this Sunday morning. Due to leaving for Florida early next Friday morning, we are doing our family Christmas with the kiddo's early and will just have their stockings for them to open again on Christmas morning while at the beach. We have our Christmas at home with Brennen and Kenidi this Sunday morning, Christmas with my Dad and Cathy Sunday afternoon, and then Christmas with Brent's Mom and Ron, his brother, his sister, nieces, nephews, etc. Sunday evening. It's going to be a 3 in 1 day fo' sho'! A fun and exciting day though. I'm having Christmas at our house with my Mom this coming Tuesday. We are really looking forward to each gathering. I think I'm almost ready. I have a few more people to buy for and some gifts yet to wrap but I think I'll make it in plenty of time. I'm going back out tomorrow to finalize the last few people on my list and then I should be good to go. Wish me luck. We've got a really busy weekend planned with several holiday dinners/parties/open houses on Friday and Saturday and then we are getting together with our good friends, The Gray's, and attending a light show at a house up here by us Saturday night. It's a 30 minute show that you watch from your car and listen to with music from a specific radio station. Remember the light show email that floated around last year with the house that was synchronized to Christmas lights...well I think this is a similar set up. Sounds fun! We are having dinner afterward. Great night - I'm sure of it.
I just talked to my Dad. They flew back home tonight from Florida - same local/place we are heading next week. They left 82 degrees and sunny weather to come home to rain and cold. All of our snow is pretty much melted now due to the rain yesterday and today. Oh how I'm counting down these next 8 days until we can have our toes sugaring in the sand and our faces toward the sunshine. Until then...I'm off to hit the sack. Due to the fact that I marathon shopped today in order to be ready for this Sunday and because I just finished helping my little guy with a book report at the dead dying last minute (due in the morning), I am beat! I'm rounding this crew up and nodding off to sleep - early - for once. Hope you all have a great night.
PS...Keep those comments coming on the give-a-ways below. Can't wait to share the winners on Saturday. I'm lovin' all of this participation. You guys have blown them both out of the park. Keep em' comin'! Much love, Angie