ANATOMY OF A BEACH MELT DOWN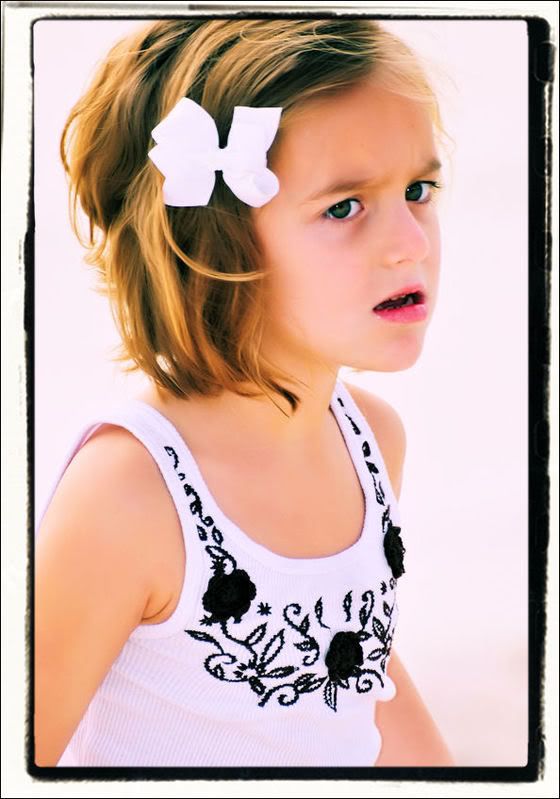 I'm dedicating this post to Kenidi's life skills teacher back home. Mrs. Alison (who does read this here ol' blog which makes me so thankful to have her as a visitor). If there is any other person on the face of this earth that knows what these looks and these step by step movements look like with Kenidi, it's her. So Alison, we thought of you when on the beach the other day. Let me explain...

The first photo above is the look on Kenidi's face when Daddy told her it was time to leave the beach and go home. The image below is of her "Yeah, whatever...I'm 5.5 years old and way bigger than you - so you be my guest and just try to get me out of here" look.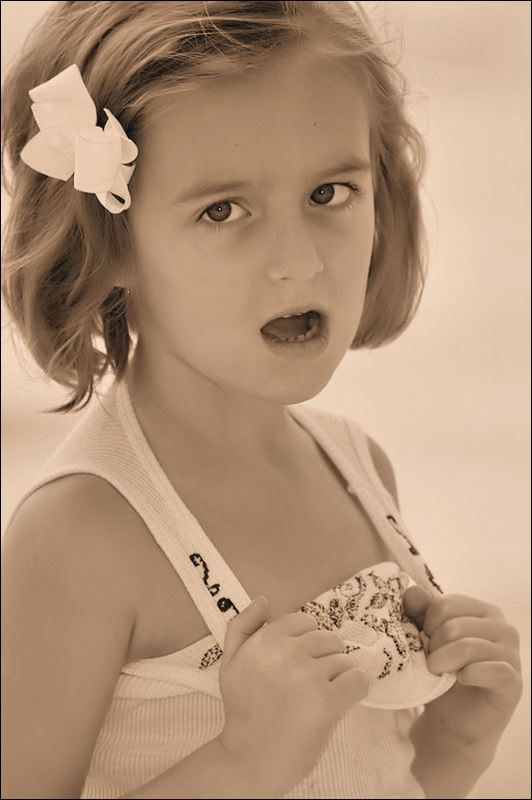 The next step is when Kenidi decides that she isn't leaving somewhere, we eventually have to walk over and get her, attempting to pick her up and carry her out of said location. Daddy does so below. Notice her way of placing one leg over the other as though she is just going to sit down in a pretend chair and wait it out. May the best man/girl win, right Kenidi...?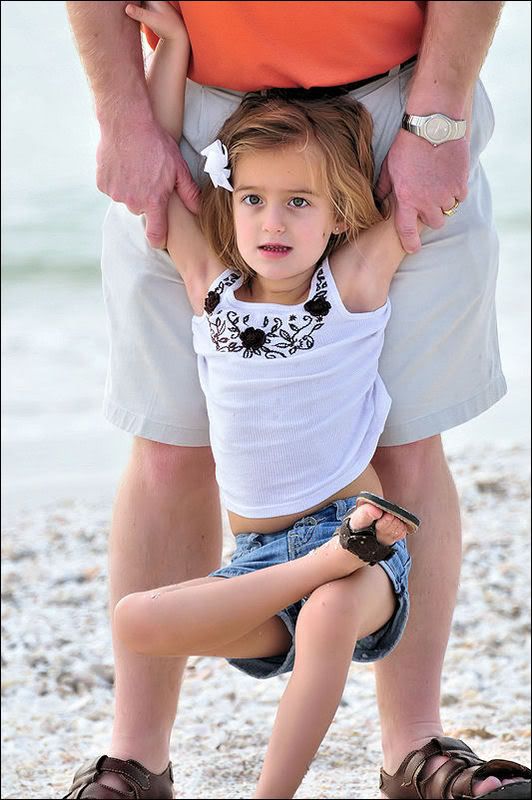 Once Daddy grabs her arms and tries to lift her up and out of said place, she does what we call the stop, drop, and roll. Exhibit A shown below. Arms go limp and straight up, then she shifts her body all to the lower half and her weight drops her entire body to the ground. Thus resulting in no way for us to pick her up. Nice try Daddy...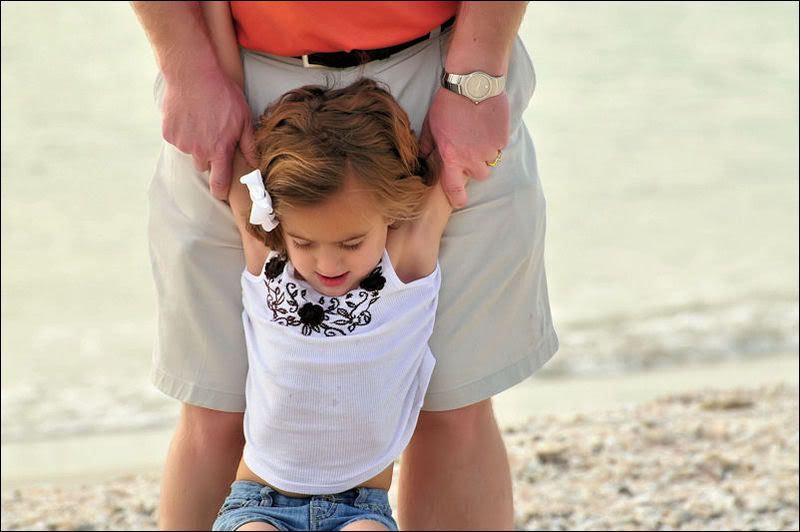 Daddy eventually lets go - as does Mommy when this happens to her - and we let her have her moment on the floor for a few seconds. Exhibit B shown below...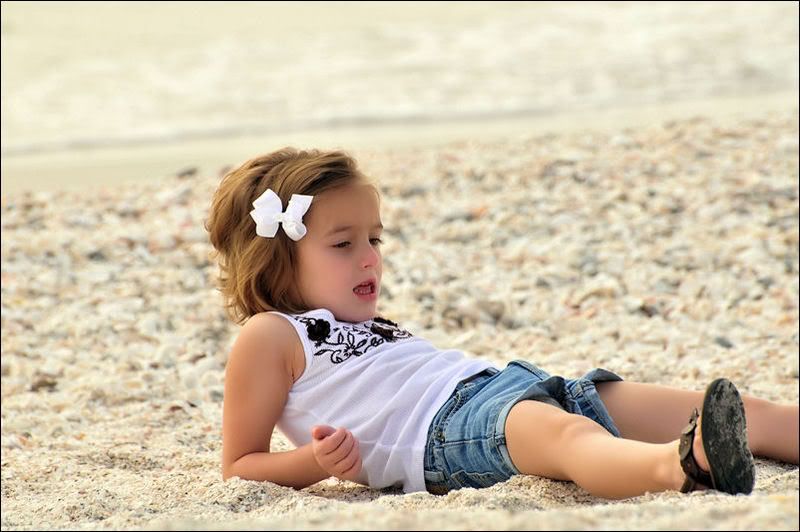 This is where it begins to get tough because others in the area (onlookers, strangers, passer by's) start to stare, start to comment, make claims about how out of control our child is, etc. With a typical and healthy 5 year old who was acting like this, you might be at the point here where you'd like to hang them by their toe nails. However, with Kenidi and her inability to speak or voice her frustrations (i.e., "Forgot you guys, I ain't leavin' this beach. Go home without me."), we are always more patient with her than a normal situation because of what she must go through during ordeals such as this when she is trying to get her point across but can't. Well she can - but in order to do it, she resorts to the melt downs and uses visual word pictures such as all of these I've captured for you.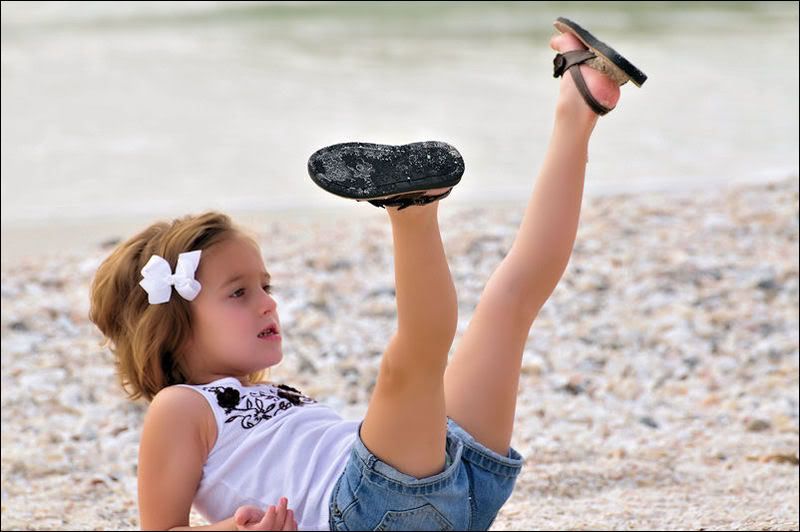 At some point, you realize...it's all a game. She is way smarter than most people give her credit for. Including us at times. Although Kenidi has severe developmental delays due to her
hypotonia
condition, she is no dummy. This child is actually extremely smart. She cognitively, understands basically everything you and I say given her actual age. (5.5 years) Although she can't communicate sentences to us, she has one word statements that help alert us to what she wants or needs. Or in this case...is
demanding
at that particular moment.
Now, as her parents...sometimes you can get through these episodes and laugh it all off. Other times though...it is way more trying on your patience. After the tornado event of trying to secretly get out of a restaurant or wherever we are as she is conveniently flailing around, kicking you, smacking you, screaming, etc. (unfortunately she has recently begun picking up some pinching and smacking techniques from another special needs child in her class) just as though you are trying to kidnap her or something, in the end you are just glad to reach the car without being hauled off to jail. Either because of the child herself and her actions that were wearing on your patience or because of the family at the table beside you that you almost had to deck in the nose and knock flat out for making very loud and unfair comments about how your child behaves due to your lack of parenting skills. Note to each of you out there who ever experience a situation where a toddler/child is totally out of control...zip your mouth and make sure you keep your opinions and comments to yourself. It's so unfair and so hurtful to judge. You never know what that child or that family is going thru. For example Kenidi...who cannot talk. Comments toward special needs parents make the parents life that much harder and even more trying. And trust me...if you run across a parent with an attitude like the one I carry in defense of my child (special needs or not), you might not make it out of that restaurant or store alive once you get all puffy and elect to voice your opinion out loud. Therefore, if you value the rest of your days on earth...you must learn to stay quiet and parent your own children...not others. I say that with the most gentle of tones. HA!
Thankfully, on this beach afternoon, we were one of only a few people out there and we were able to laugh it off on the way back to the car as Kenidi was screaming at the top of her lungs - clearly pretending that we had kidnapped her again so that she could stay back at the beach.
As everyday with Kenidi ends, no matter how many melt downs we have experienced on that given day, you look at her and know without a shadow of a doubt that she cannot help it. Yes, it is partially a game. However, these are the cards that God dealt her. These are also the same cards that God dealt us. We are thankful for both hands. Although trying, they make all of us who we are. Those hands of cards have blessed us with more patience, more understanding, more love than we ever thought humanly possible, more care and concern for others, and so forth.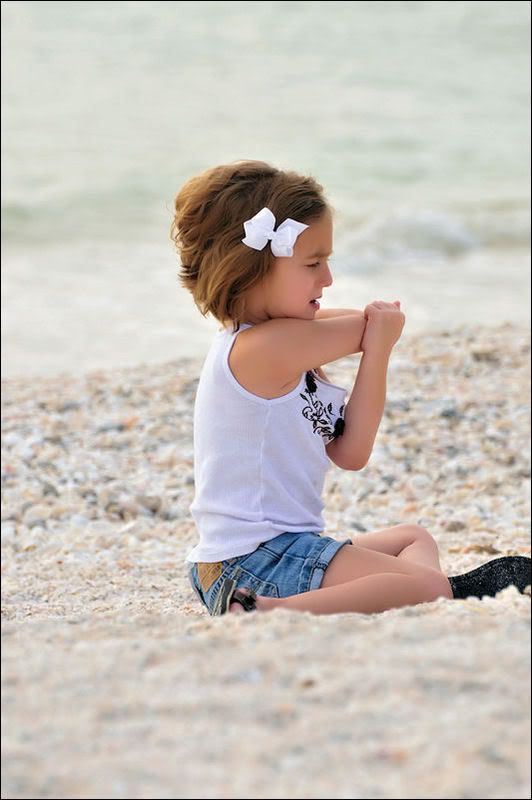 The melt downs, kicks, bites, screams, and all...are "our" life. And we are extremely proud of that life and so very grateful that God chose us to parent that world for Kenidi. We are also very glad that he chose Brennen to be the big brother that he is for Kenidi as well. We couldn't play this hand of cards or do it without him.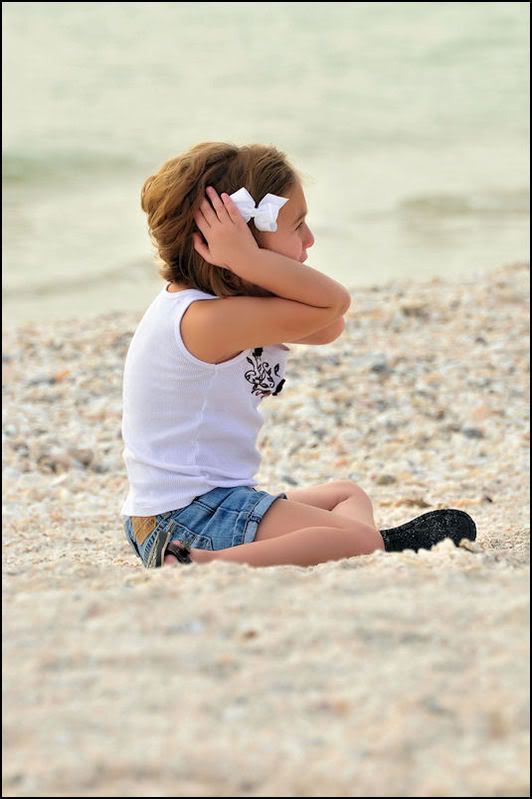 The hands on the ears, shown above, are Kenidi's reaction to being told..."OK...we are leaving without ya." We begin to walk away and she does the above. However, she never gets up and comes running to us as planned. If she does, she eventually sits back down and does it again once she sees that we see her finally cooperating.
So Alison, I knew you were one of only a few people on the face of this earth that can appreciate these photographs - our life in frames - and also your life with Kenidi as well, beings that you are her teacher. As I went back thru some of the images from the beach the other night, I thought..."Alison must see these!" Ha Ha!
Imagine friends...Alison and other special education teachers and aides across the country do this for a living on a daily basis. And they CHOSE that job. Well, really we know that God chooses them - to chose that career. HA HA! When all is said and done though, they do this for my child and thousands of others everyday. I'm telling you...you need to go thank your schools special education staff - whether you have a special needs child in their class or not. They are special, special, individuals and deserve affirmation, appreciation, and support - from everyone.
Anyway, now that I'm done with my soapbox, I just thought all of you would enjoy seeing Kenidi at her finest. If you are close friends with us, you've most likely witnessed it first hand out in public somewhere along side us. We thank you for still being our friends and for still venturing out with us time after time - even once you've escaped a restaurant or store with this child and her parents - without being thrown in jail for a knock down drag out fight amongst adults (outspoken by standers) or for alleged attempted kidnapping charges. We thank you for braving those waters each time we are out and about with each of you. Hee hee! That is what friends are for right? If we do down, you go down (to jail) with us. HA!
We love you Kenidi Grace. Swats, smacks, and all. We wouldn't have it any other way sweetheart. You are our gift from God and we are so very thankful for you and all that you've taught us baby girl.
Love you to the moon and back (1000 times),

Daddy, Mommy, and Bubbies

PS...You can't be mad at her for not wanting to leave the beach. She inherited that love for the ocean and the sand honestly. It's in her genes. Literally thru and thru. Like Mommy, like daughter.