WHAT A GAME!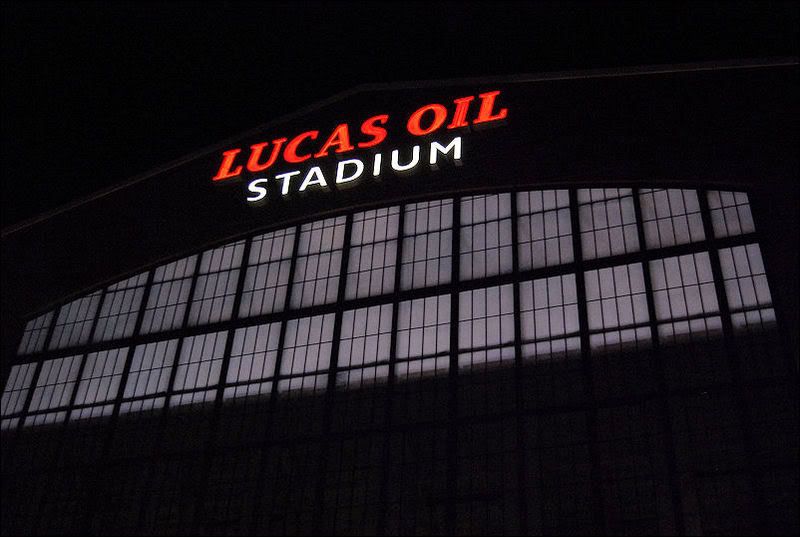 As my Mom put it, "it was a night to be remembered." There are no words to describe the excitement, the anticipation, the comeback, the win, the loss, the game in general. You would've just had to have been there - and many of you were. The announcers came over the speakers during the game and stated that the attendance that came through the stadium this weekend for those games topped an all time record high with over 56,000 people. Now that is saying something when you are just talking about high school football. WOWZERS!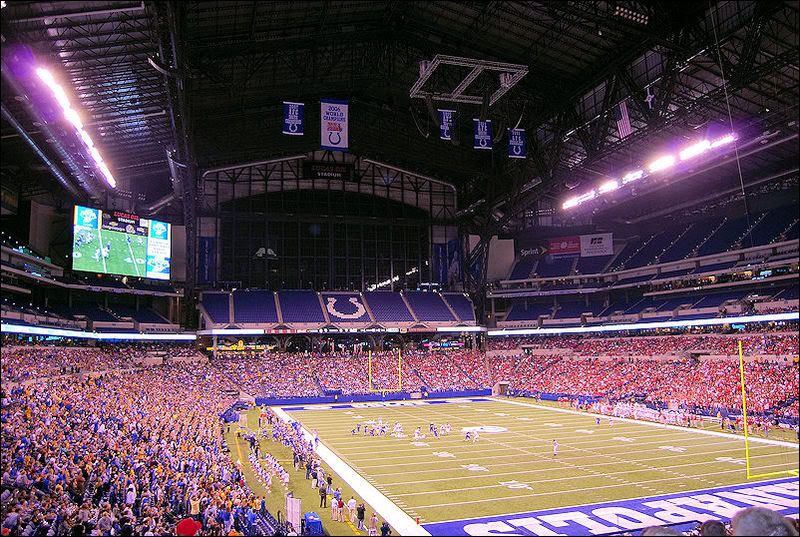 The stadium was gorgeous - even more than I ever could have anticipated. I apologize in advance for the grainy pictures. As you can imagine, I am going nutso over them but I really worked "Razzi" and our glass last night to the core. My lenses, even my 70-300mm lens, was no match for this stadium. It was just too big - too massive. I did the best I could with what equipment I had but I really needed to be down on the floor with the "big boys" in order to capture the shots I wanted. However, that would have required a press pass which I didn't have. No fun! Ha ha! I did manage to capture a good roof shot though of our Indianapolis Colts winning banner from the Superbowl two years ago.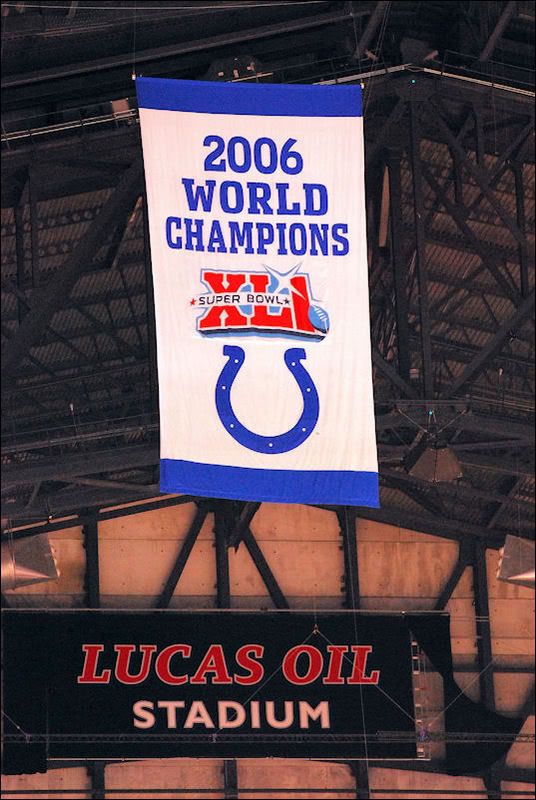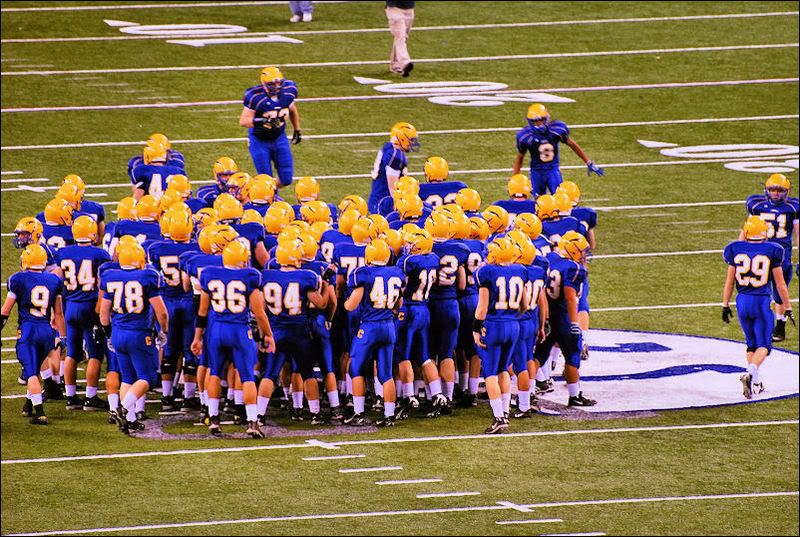 These shots were of both teams - Carmel above - and Center Grove below - running out onto the field at the start of the game.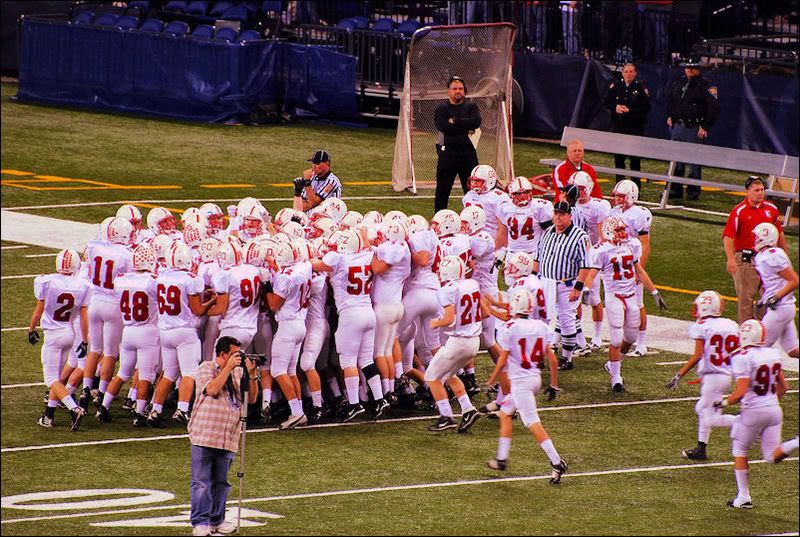 Then you have the fans...
Carmel (our new school) in blue and yellow, CG (my Alma mater) in red and white...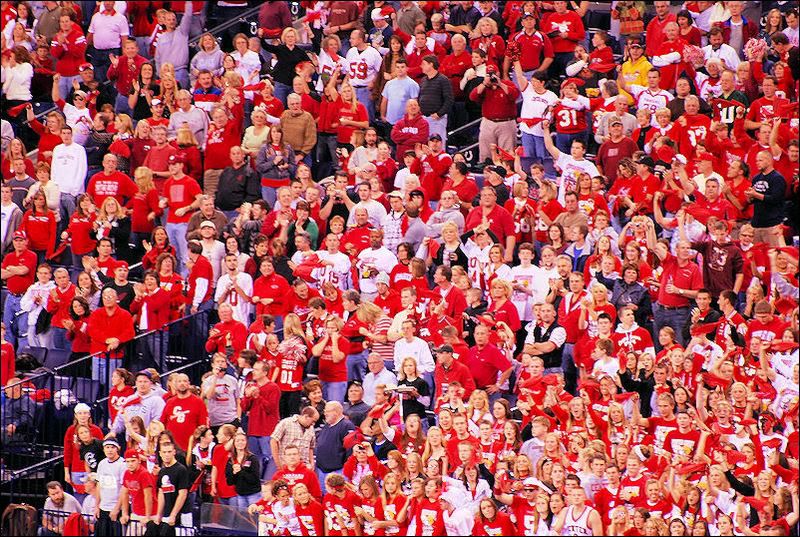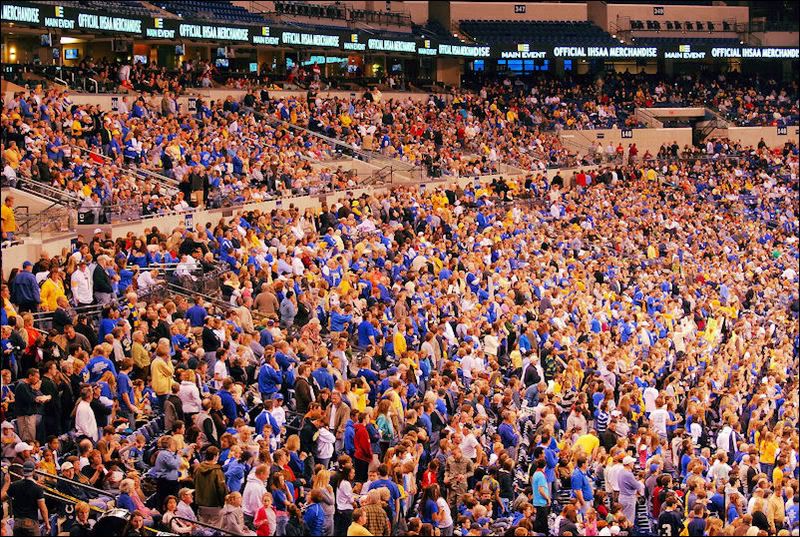 I just couldn't get over the incredible crowd that turned out for this game. Even back when I was in high school 15 years ago, there was a HUGE rivalry amongst Carmel and CG. It's never changed and in fact it has probably gotten worse since the years that I've been gone and out of school. The coin toss shown below...love how these boys hold hands now days. Look closely...you'll see it.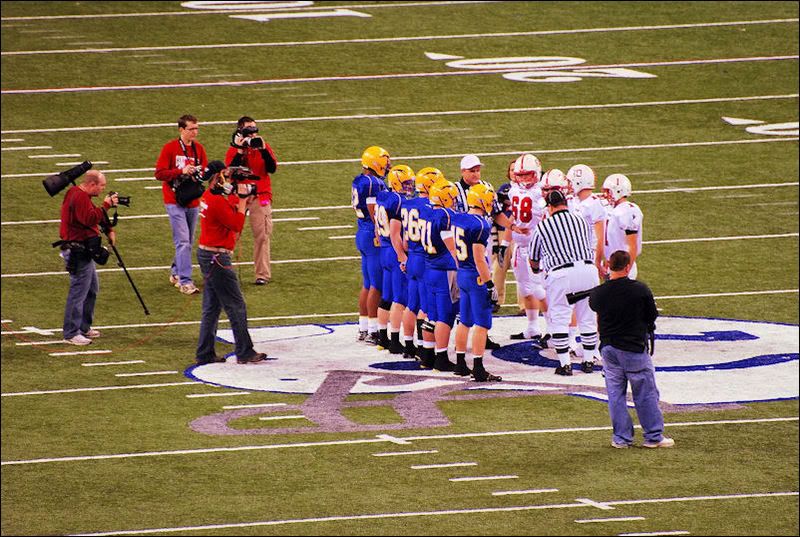 The kick off. Carmel won the coin toss...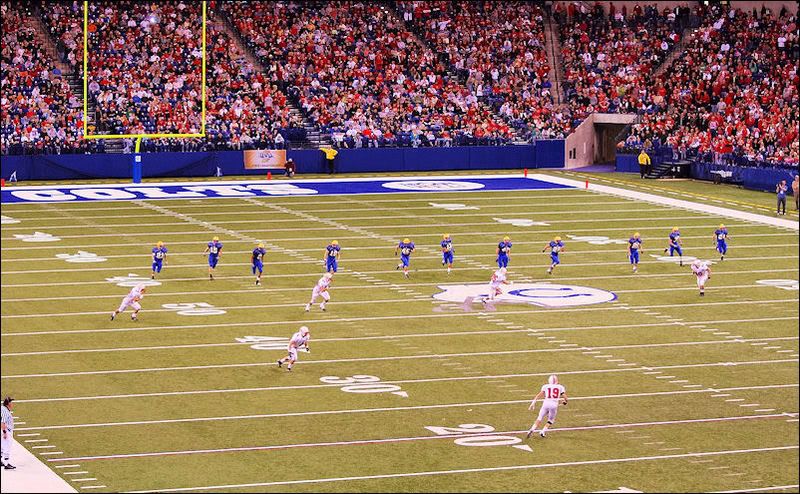 Center Grove fans dawning all of their red...
My camera almost acted as a pair of binoculars when I had my telephoto lens attached. It was cool to see people thru my camera from such a far distance away. I even found people I know in the pictures I captured whom I couldn't see when there in the stadium. Too funny.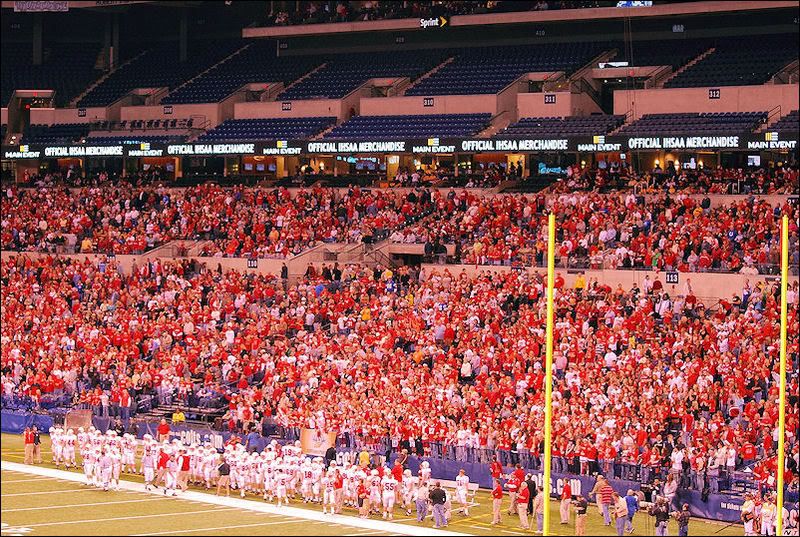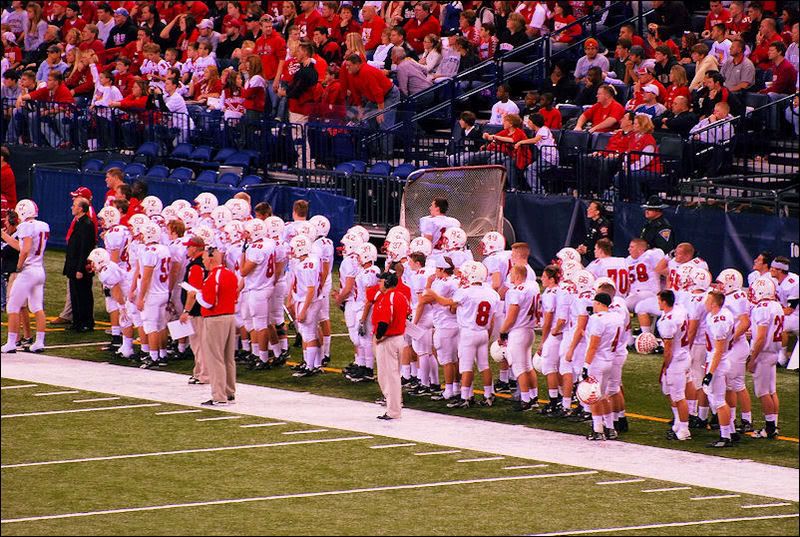 Carmel pretty much came out and whooped CG for the entire game. As I watched in horror, but yet tried to be excited for Carmel, I silently prayed for a brutal CG comeback. I'm sorry new Carmel friends. They are my homies. My peeps. My life until 3 months ago. Some of my best friends were donned in red and I felt the pain when they were loosing. Each time they made a good play (CG), I'd clap and get excited. Beings that we were sitting in the end zone, we had a few people look at me from Carmel and give me this glare like..."What are you doing?" Problem was...Brent talked Brennen & I into wearing our Carmel gear to the game. So here I am sporting my Carmel sweatshirt but rooting for CG. Most were confused. I'm sure of it. Heck...I was even confused. Ha ha! Tamara said that the fans around us probably thought I had split personalities. :) Truth is...I did during that game. I wanted both teams to win.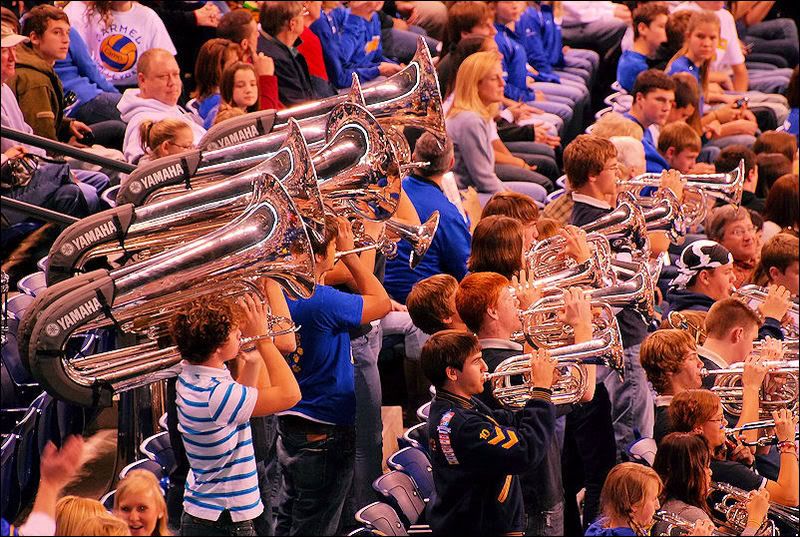 Part of the Carmel Band...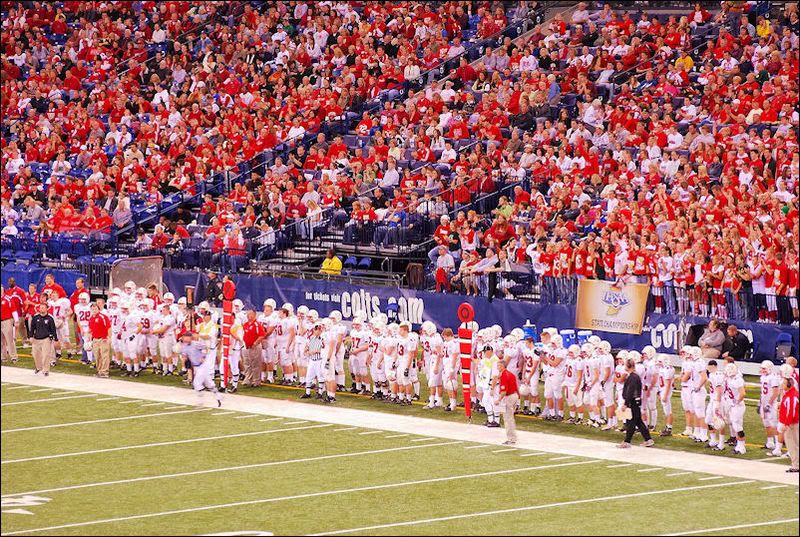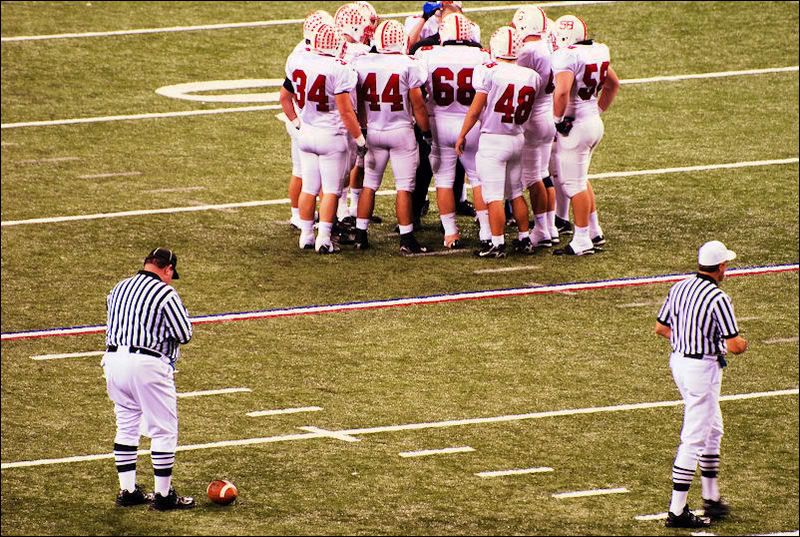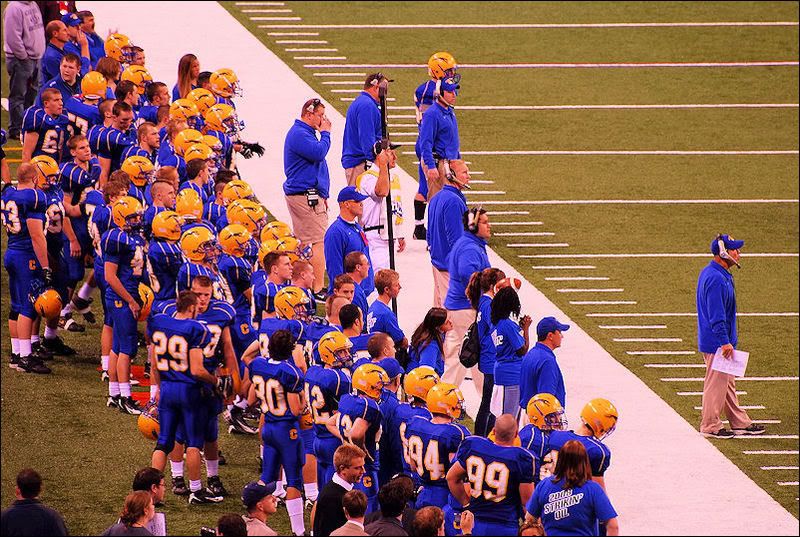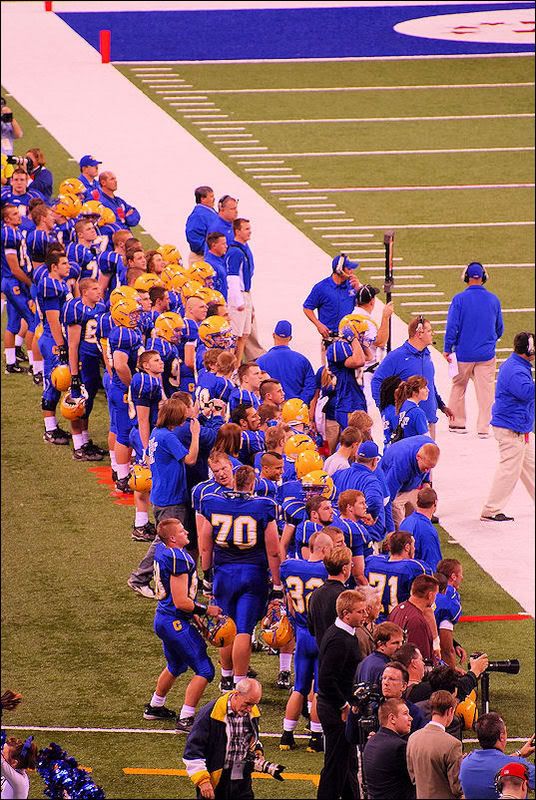 Carmel running out onto the field after half time - still whooping CG at that point.
I was coveting the big guys and their glass (their lenses) down on the field. Man...that is just so not fair to own one of those big, bad, boys. And to have a press pass too? Come on now...share the love, will ya?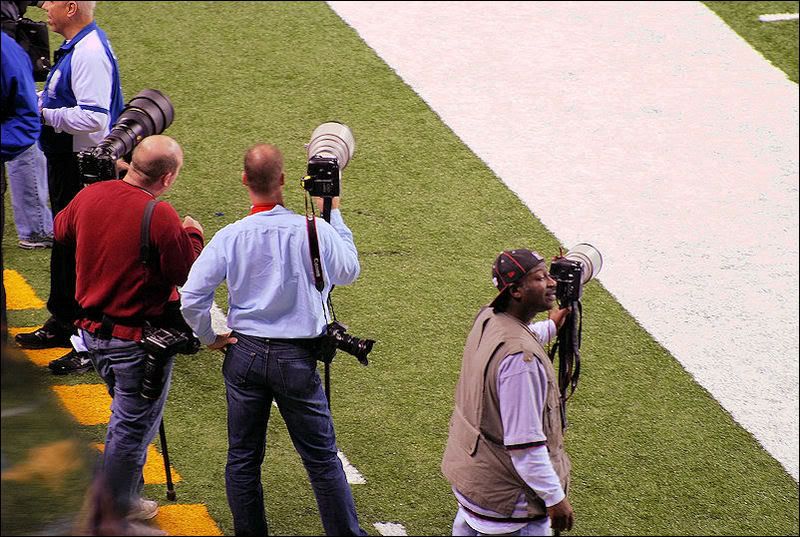 Brennen and Derek enjoying the view from the stairs...
Loved Brennen's body expression here. You could tell he was just as confused as I was on who he wanted to win. He was back and forth all night long.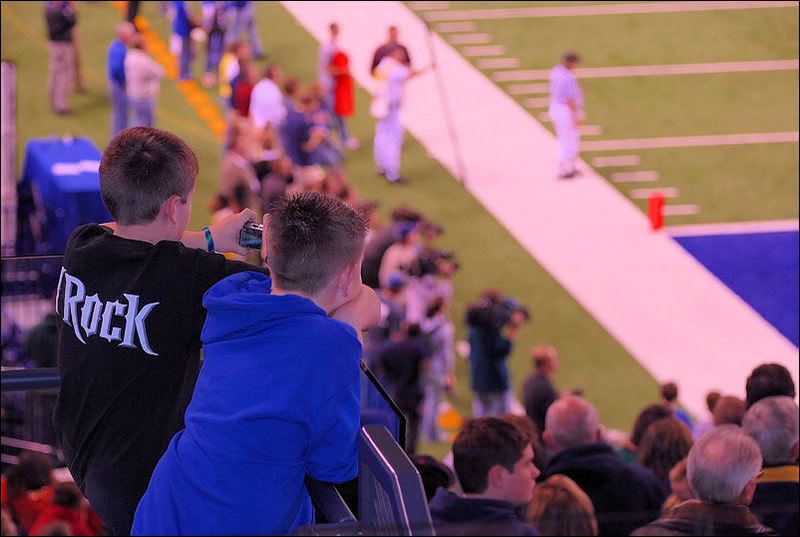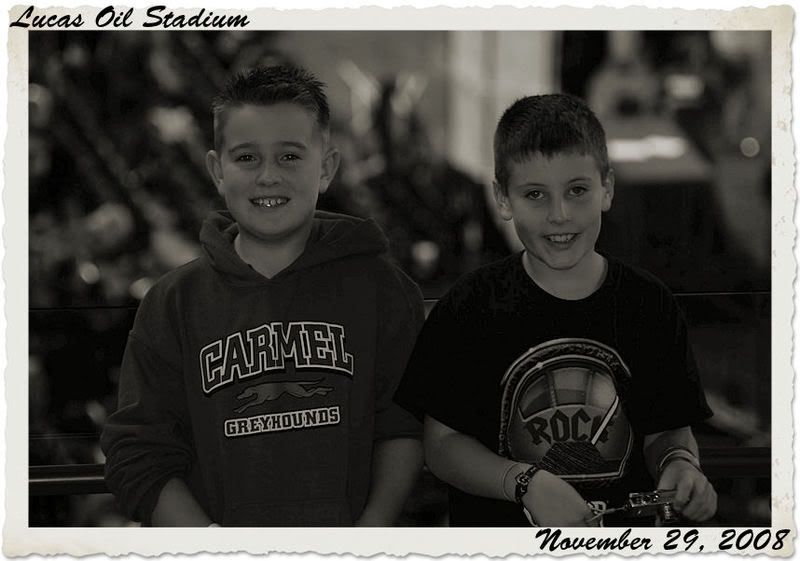 The big win...
Center Grove came back to score three touchdowns in the last 6 minutes of the game. It was unbelievable. I was elated. The man upstairs answered my silent prayers for a Center Grove win last night. When it looked impossible for CG to come back, I think Carmel got complacent. They thought that they had it in the bag. Most people did. However, God does miraculous things when he feels the need. In the end, CG took home the title and made the biggest orchestrated comeback in state finals history rallying from a 19 point deficit to beat Carmel 36-33. You can read all about it

HERE

(our local newspaper). Watching Center Grove soak up that win made my heart happy. As I said, I'm a very loyal person. Brent calls it my "Mafia Mentality." It is what it is. I am who I am. Mafia mentality or not, CG is my school. My hometown, my world as I've always known it.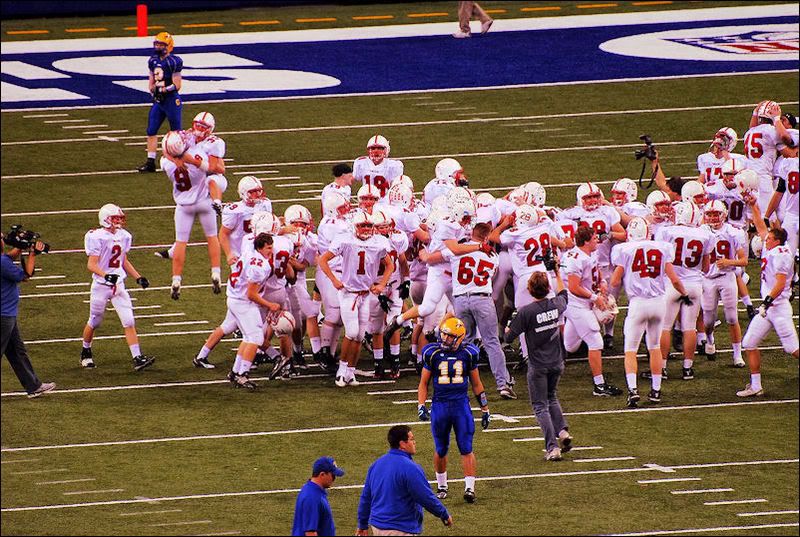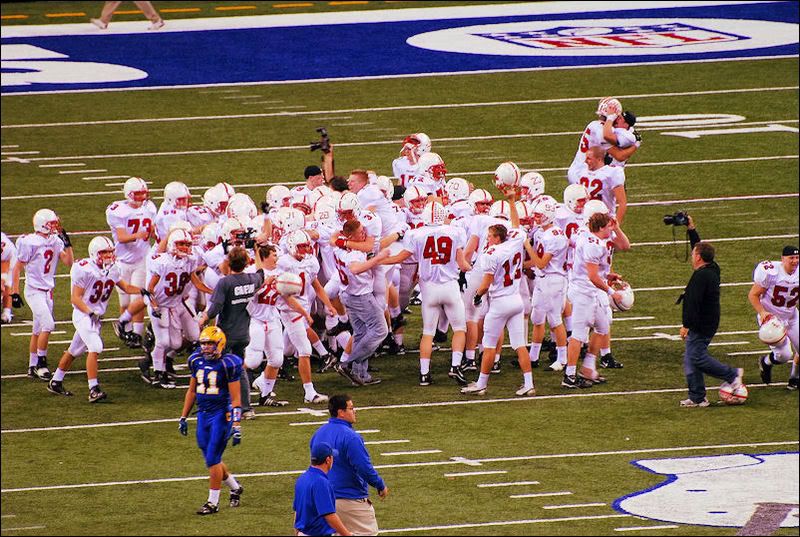 Look at the two players (above) in the top right hand corner of this image. The one player is overwhelmed with emotion as he hugs his teammate. I cry just looking at it. Really - I do! As the local paper put it, this championship was basically nine years in the making. Most of these senior boys had played since the 4th grade together. As you can imagine, one WOULD be filled with a ton of emotion after a comeback and a win like this...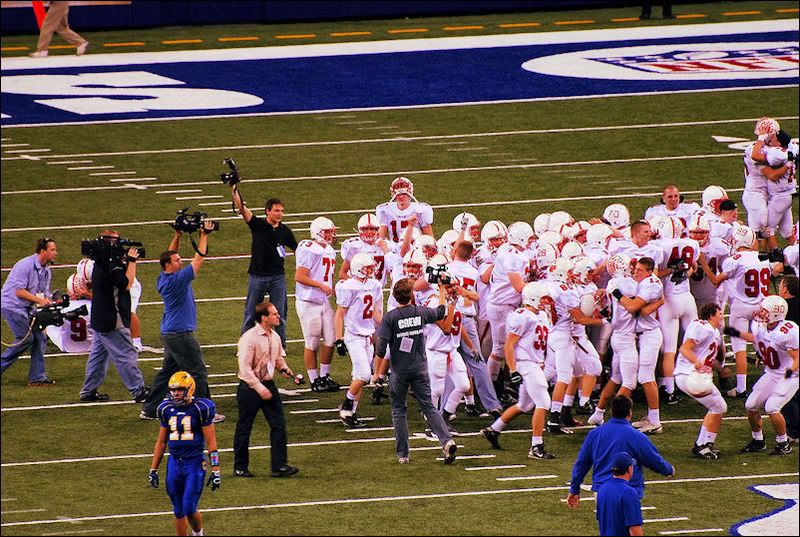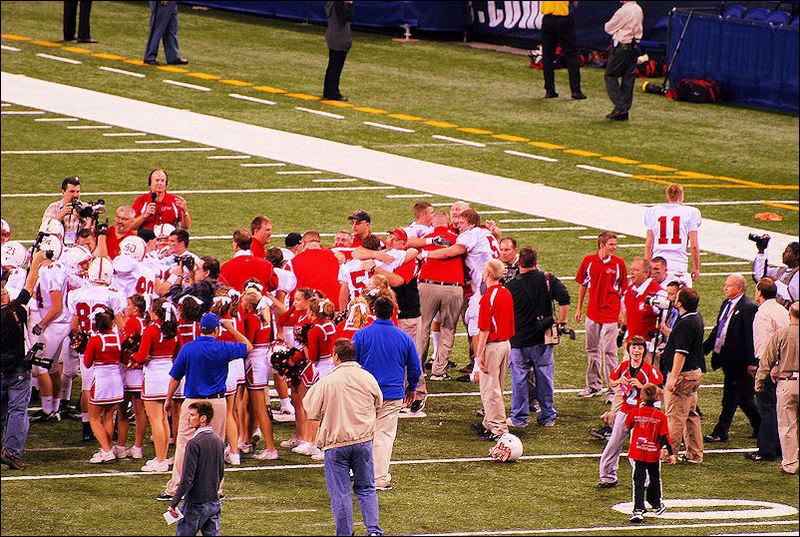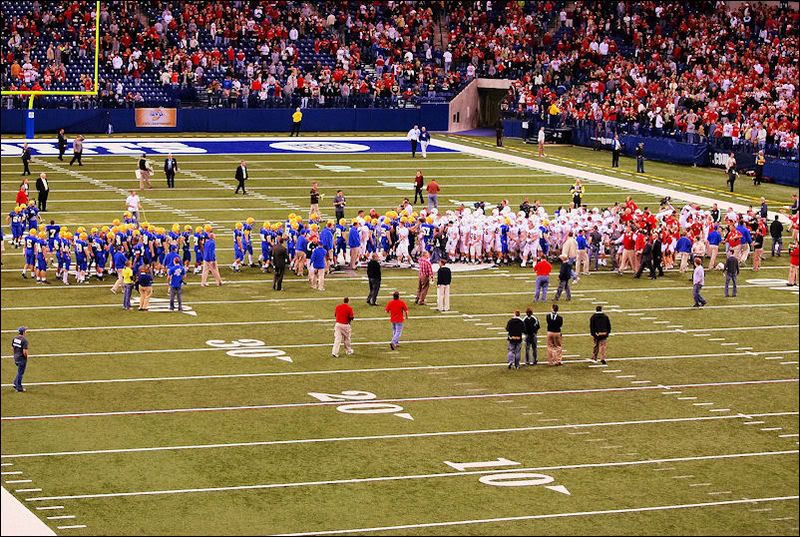 Carmel fans cleared the stadium pretty quickly once the game was over. Again, I was out close to the field trying to snap shots of the CG win all while donning the blue Carmel spirit wear that Brent coerced me into wearing. Women - wives...always follow your gut. When your spouse tells you to wear one color, go with what your gut tells you to wear. Because Brennen and I listened to Brent...we got to all do the walk of shame out of the building while sporting our Carmel attire. Ha ha! At least Tamara and Derek had some CG gear on. We got to walk out with them. I was just praying that none of my other Center Grove friends saw me in my Carmel gear before I made it to the truck. I knew if they did, I'd be doomed. HA! Like my Mom told me to do, I was ready to run like H---!
No really though...as Brent said on the way to the game...the good thing for us is that no matter who won the game - our family won either way. He was right. Although I was really pulling for CG, I would have supported Carmel too. They are our new home and we are just as proud of our Greyhounds as we are our Trojans. They worked hard all season long to get to that game and played extremely well until those last 5 minutes of the game. When push comes to shove though, a win is never easy. Even when you are ahead by three touchdowns. Never get too comfortable. Life should NEVER be "comfortable." If it is, you've gotten too big for your britches and need to come down a level or two.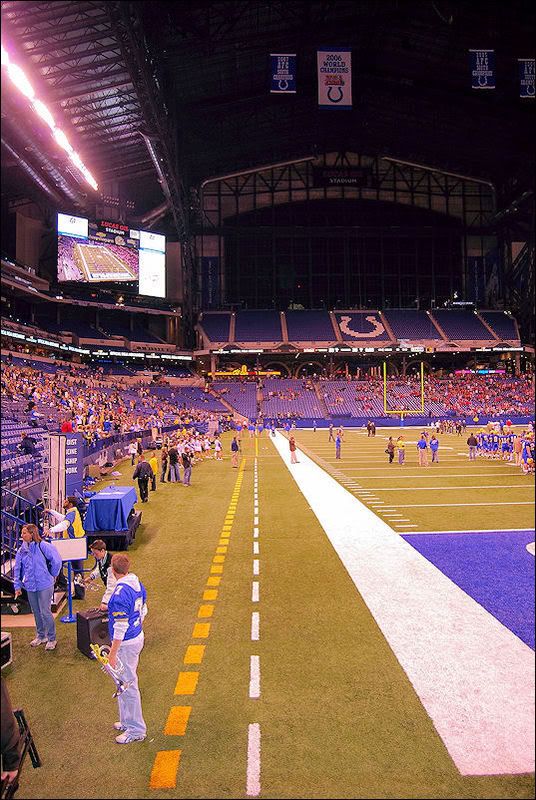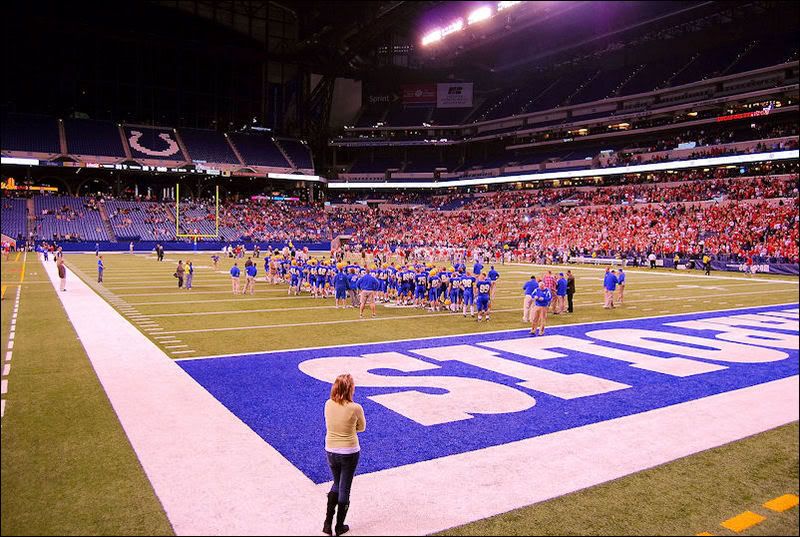 I snapped this shot of this gal above as she stood - looking on - in support of Carmel once the game was over. I don't know who she was but I thought she represented what a lot of people were probably feeling last night. Her body language said it all. I'm guessing she was the Mom of a Carmel player. I'm also guessing that because of the heartbreaking loss, their night was a long one last night. She seemed so little - so small - standing at the corner end of this huge stadium. Now she was helping to bare a big and painful loss as were many other Carmel parents. It broke my heart for her and the others. Again, even though CG is my stompin' ground and who I was technically rooting for, you can't help but feel bad and upset for the other team when their season ends with a loss. I ssooooo wish that both teams could have taken home the state championship title. We all know that those type endings are never an option though. Life just doesn't work that way.
So...CONGRATS to both teams. Both are awesome in my opinion. A big thanks to CG though for giving us a night to remember. It is just another moment to go down in my memory book when it comes to my Alma mater. Even though my graduation took place back in 1993 from Center Grove, last night propelled me right back to those days of elation when our school would win and win big. Seeing all of the young students there rooting on the school brought back so many memories for me. I felt like a kid again when CG ran out on that field after their big win. Funny how time really does fly by so fast. One minute you're a senior in high school soaking it all in yourself and the next minute you are propelled 15 years into the future, now called the present, standing there with your 9 year old son watching your hometown school do what they do best! This thing we call life...capturing it one image at a time...
xoxoxo, Angie