POOLSIDE WITH THE GIRLS
(Krissie, Diahann, Sarah, & Me)
Well, this isn't ALL of the gang - but a quarter of it maybe. As mentioned, we got the girls together on a whim today so that we could extend our lake vacation trip into my backyard poolside. These are all girls I graduated from highschool with. They were who I got into trouble with, who had my back, and who still to this day make me laugh harder than any other group of people on the face of this earth. Well aside from the Brentster anyway. We when get together, we just hang out. Chat it up. And have zero expectations for the time we have to spend together. It's all about fun, love, support, and truth. I consider myself to be extremely blessed to still have many of the friends I went to school with in my life. It was 15 years ago June 4th that we all graduated and walked out those doors of our highschool. Even with ups and downs, distances and close bonds, we all have still managed to keep in contact. For that, I am so very thankful!
(Krissie & Sarah preparing to come down the slide)
Aside from our laughs today, we got an unexpected call from Brent alerting all of us that we had a "SHOWING ON OUR HOUSE." Keep in mind, we were partyin' it up in the backyard, had food out the ying yang, and the music going. Not to mention the fact that we were basically all in our schivies. (i.e. our bathing suits) We had literally 45 minutes to clean up the place before the family was due to be there and tour our home. What an instant nightmare. A huge thanks to Melissa for helping me make Brennen's bed, clean things up, and arrange in 2.2 seconds. Literally! Ha Ha! (Unfortunatley Melissa escaped any of the photo ops from today. We'll catch ya' in Florida sista - don't worry!) ;) In the end, we never saw the family if they did come for the showing. If they did, they didn't peek out the back and say hello. HA! We were prepared to tell them that we all came with the house too. :)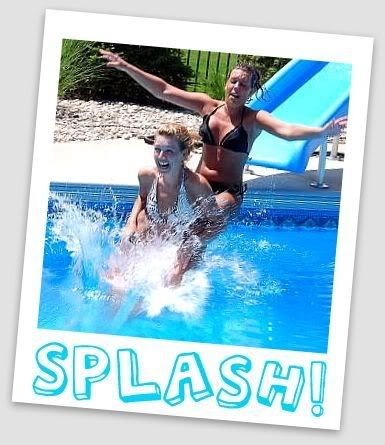 (Krissie & Sarah making waves as they hit the water)
Overall, it was a terrific and very relaxing day. We are ready for another one.

(Above and below: Krissie and Sarah rafting and lounging)
(Above: Diahann)
(Krissie, Sarah, Di, & Me)
Aside from the sweaty rats nest hair job and the make up pouring off of my face, I am honored to get with these girls and stand beside them for a photo op anytime. Lovin' my sista's! Oh and lastly...Look what Sarah taught Krissie and I how to do today....
YEAP - WE ARE OFFICIAL TEXTERS NOW! Needless to say, we are beyond excited. Ha ha! The simple things in life. Ya gotta' love it. You also gotta' love it when your husband knows your "crew" so well. See his text back to me after I practiced on him in the photos above. Hysterical!
Hugs, Angie
PS...Sorry for all of the grainy looking photos. With bloggers server down, I'm having to upload them that funky way again. I hope to correct them all in the next day or so should this server issue ever get fixed and STAY FIXED Dag narn it!