POOLSIDE FUN
Well, we spent this Monday outdoors - poolside - with buddies. Brennen has a friend of his over spending the night tonight and then he had a couple of school friends over for a bit swimming with the both of them this afternoon. Today was one of those days when you find yourself just thanking God for everything. For friends, for healthy young boys that can run, jump, and play, for sunshine, for water on a hot day, for daughters and sons, etc. I sat there in a lawn chair and actually filled some jewelry orders as I watched the boys play. They had me laughing until my sides hurt at certain moments. They were all just too fun! Kenidi too. She loves it when I put a life jacket on her and pull her around the pool hand to hand. Her belly laughs get me laughing hysterically too.
Most of you know or remember our sweet little friend Payton Dillon who happened to undergo brain surgery a couple of months ago. I posted about her here on my blog. Well, her brother, Dominick, is in town visiting his Grandma and we decided to go snatch him up and bring him over here to hang out with us while he was in Indy. They recently moved to Tennessee last year so Brennen has really been missing them and so have we.
They've had a day full of fun in the sun and now they are out playing basketball together in the drive. Dominick and Payton's Dad, Joe, used to coach Brennen and the boys on their basketball team. Therefore, they LOVE the game of basketball.
(Kenidi and Brennen watching Dominick come down the slide)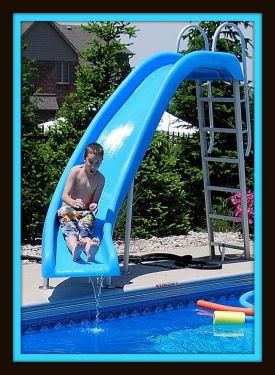 WHEW HEW~!!! Fun, fun, fun! Everybody loves the slide. And I love capturing the shots of their faces as they come down it. :) Until tomorrow, have a great night. Kathy and Joe, we are dragging Dominick and the kids off to go eat Mexican. Call us on the cell should you need us. Talk to you soon. ~Ang