LOSS FOR WORDS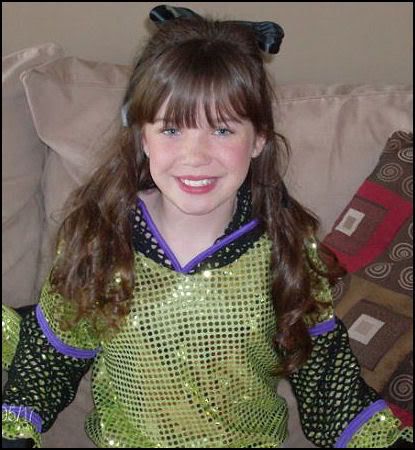 I've said it before and I'll say it again. I'm a "FIRM" believer that God places people in one anothers paths for a reason. Today I am a different person - hopefully a better person - after getting the privilege to learn about the beautiful girl you see in the photograph above. Her name is Bailee. Bailee is 10 years old and has now become a hero in my life. As soon as American Idol ended last night, I checked my emails only to discover this one in my inbox. (shown below) After asking for permission from Bailee's Mother, Rhonda, to share the email she sent to me and her photos with everyone here on the blog today, I'm honored to introduce each and every one of you to her as well. Here is what melted Brent and I's hearts last night and brought us to instant tears as we read it together....
Dear Angie,
We love your blog soooooooo much!!!!! We check it several times a day. Bailee always loves to see what you have posted. She will say," mom have you checked Mrs. Angie's blog?" We have been praying for your family that everything works out for Kenidi as she gets ready to start school. I have felt a lot of the emotions you have shared on this blog when it involves our children who cannot fight for themselves. I have watched time and time again as Bailee tries to do things like the other kids and she has such a hard time. My heart breaks every time.

Bailee has Cerebral Palsy. She cannot walk by herself; she has to have a walker. She is 10 years old, and I know life is tough for her sometimes. She keeps a smile on her face all of the time! I wanted to send you a few pictures, so you could put a face with our names when we visit your blog, because we love it!!! This is a picture of her going to her dance recital. This is her 8th year to dance. She is the only one with a disability, and she gets up there in her walker and does her best! While she may not be able to do all of the steps, she has a huge smile on her face! We included one of her with her sister too! Brooklyn is 4 and loves Bailee so much!

I wanted to share this with you to let you know what an inspiration you have been to me as we fight for these kiddos that cannot fight for themselves!
Oh yeah--you have introduced us to Leona Lewis! We got her CD and we love it! Bailee wanted me to share that with you too! Have a GREAT night Angie!
In His Love,
Rhonda and Bailee Bryant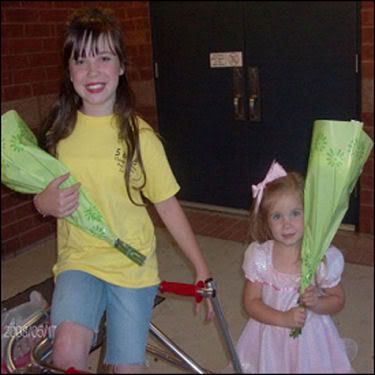 (Bailee after her recital with younger and adorable little sister Brooklyn)
It took me until this morning to be able to see past the tears and find the words to write

Bailee

and her Mother back. I am beyond humbled, beyond flattered, but most of all...beyond blessed that God has introduced me to this young girl. As I told Rhonda,

Bailee's

Mother, in my email back to her...

Bailee's

vibrant smile gives me hope. She proves to us that children such as

Kenidi

can go on to be happy and full of life while enduring the plan God has for them.

Bailee

is 10 years old, has been in a dance class for EIGHT YEARS, and she is smiling - smiling like nothing I've ever seen before. Time and time again - these kids - kids with special needs in life - have taught me more love and compassion as well as grace then I

would've

ever learned or come to know had I not been blessed by crossing their path.

Bailee

inspired me to be BIG, to keep fighting, and to try and smile contagiously as she does. She has challenged me - for the better. I thank you for that

Bailee

. I thank your Mom for that too.
As you can see, I decided to take Bailey's photo and the email from Rhonda and frame it within an 8x10 frame. It now sits in my office right next to where I type and blog from each and every day. I am keeping her there - as a reminder - of why I do what I do - how to be better and more graceful at it - and as the reminder - along with

Kenidi

- to JUST KEEP FIGHTING!
Brent looked at me last night after we read the email together and said..."Do you know how cool it is that you have a 10 year old little girl that rushes in each day - excited - to follow your blog?" He is so right. Thanks for making me "COOL"

Bailee

. Thanks for helping to make me a better person today than I was yesterday!
Until we can maybe meet someday in person, God willing, keep smiling, keep dancing, and keep

rockin

' out to Leona Lewis for me. :)
HUGE, HUGE, HUGE Hugs....
The Seaman Family
Brent, Angie, Brennen, &

Kenidi