BACK FROM CHI-TOWN
Well, we are home - safe and sound - from Chicago. We had a spectacular family trip and thoroughly enjoyed our time with our friends...Dr. Golden, his wife Laura, and their son Harrison. Dr. Golden - otherwise known as Mark - lives in the 86th floor of the John Hancock building in downtown Chicago. He's in the building that houses the Cheesecake factory at the bottom of it. (for those of you familiar with Chi-town) They own three - yes three -suites/penthouses within that building that total 5000 square feet. It is definitely a different way of life but one that is so intriquing to us normal "houseowners on ground level." Mark is a dear friend of Brent's from way back. They met thru a business endeavor years ago. He is a lasik eye surgeon. He keeps trying to get me to let him do my eyes but I just can't bare the thought of it yet. Maybe someday, right Dr. G? :)
Either way, our trip was cold but fantastic. We had a great dinner Friday night and then met Mark and his son for brunch on Saturday morning. After that, Brent, myself, and the kids spent the day shopping on Michigan avenue. We hit every store possible. Kenidi loved the American girl doll store and Brennen loved all of the game shops. I must note that the moment we walked into the Nordstrom mall, I heard a very familiar sound. Guess what song was playing as we went up the escalator in that store??? It was GLORIA! That's right....Gloria by Laura Branigan again. I was bee boppin' on the escalator with Brennen while it was playing. Brent was laughing and flat out asked us if we were retarded. I guess we were a bit "noticeable" with our dance moves. Ha ha! After a long day of shopping, we went back to Dr. G's building and hung out for a bit. They then took us all out on the town to a "FAB" restaurant in the city. We got the Chicago underground tour after we were done with dinner. Did you know that there are actually three stories to downtown Chicago? Yeap...underneath Michigan Avenue is two underground levels where all of the stores receive their deliveries and such. It was crazy. We never knew that about Chi-town. After the tour, we got some great night shots from the views of their apartment. There are no words to describe that view. It's stunning! On Sunday we went to brunch again and then over to the SHEDD aquarium. The kids loved that. We had a great weekend and are so appreciative of Dr. Golden and his wife's hospitality. We can't wait to come back when its warmer. :) Here are some pictures from our weekend....
This was our view out the car windowns on our way into downtown Chicago Friday. It was gloomy and a backed up mess. We made the best of it though. What is Chi-town without a little bit of traffic? It's definitely never a place for the impatient. :)
ABOVE: I must start off by pointing out that this little orange and yellow box was one of the major highlights to my shopping trip in downtown Chicago. I stumbled upon these little guys in Walgreens off of Michigan avenue Saturday.
I am in HEAVEN!
Who would've ever guessed someone would have thought to make peanut butter Whoppers? Whoever did think of it deserves a shear "genius" award. They are fantastic~! You must try them if you love peanut butter as much as I do.
ABOVE: This is their pool in their building. Imagine swimming 44 stories up - along side all of these huge, towering buildings.
The bloomingdales building
Views of the lake
More lake views
Look way down - see the cars lining and driving on the streets? Now that is a long drop....!
Brent, Dr.Golden (Sporting his Aruban shirt. He is who mainly helped us plan our Aruba trip for this coming October. Their whole family was just there over Christmas and loved it. His shirt came from there.), Brennen standing, Harrison, and Kenidi all taking in the city views from their penthouse windows before dinner on Saturday.
ABOVE: The view of the sun beginning to set - 86 stories high - Saturday night.
BELOW: Brennen looking out over the city. He looks so tiny compared to all of these views.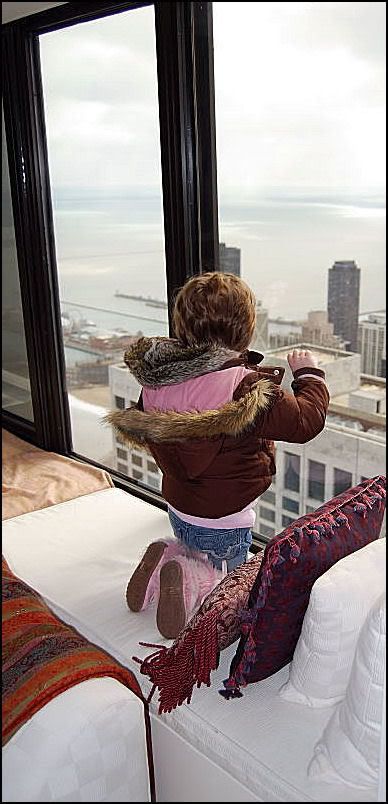 ABOVE: Kenidi on their couch looking out over the city. It made me a nervous wreck for her to be up on those windows like that but they assured me you couldn't even throw a chair thru
THOSE
windows.
BELOW: These are the night views of the city from Laura and Mark's apartment in downtown Chicago. Imagine this view - 86 stories up - every night. It was stunning and nothing short of amazing. My camera got a real workout on this trip. :)
On Saturday evening, Dr. Golden and his wife Laura took us to a restaurant called Fogo De Chao. It is a brazilian bbq where the wait staff continually brings out 40 something different meats to try during your dinner. If you want more, you let them know by flipping the colored coaster over near your plate. If you are stuffed and need to stop or if you need a break for a moment before you start eating again, you flip the coaster to red for a bit. They had a fantastic salad bar and a wonderful ambiance inside the restaurant. We loved it. The only bad part to the evening is that the minute we stepped foot in the restaurant, Brent had to take Brennen to the restroom because he was feeling sick. He ended up vomitting like three different times before all came to an end. We thought we were going to have to leave but he managed to come back around. We are teasing Dr. G and blaming him for his Indy 500 style of Chicagoan type driving on the way to the restaurant. He was showing us how he could do like 90mph down the ramp out of their buidings parking garage and I believe that is when Brennen fell ill. It was a spiral ramp that went round and round and round. You get my drift, right? He ate well at dinner though and seemed to get back to his normal self after an hour or two. (even despite dropping his salad plate on the floor in front of everyone at the restaurant. It cracked into a million pieces and Brennen instantly broke into tears. He was having a rough time at first.)
ABOVE: The coasters that you flip over at the restaurant when you are wanting the wait staff to bring around more meat for you. Green means bring more - Red means STOP-I've had enough!
ABOVE: Brent and Dr. Golden (Mark) getting their next round of meat from the waiter.
ABOVE: Dr. G insisted that we get Brennen a birthday dessert after dinner. (Brennen's b-day is this coming Thursday) So, the wait staff brought this big ol' hunk of a chocolate cake out to him and we sang Happy Birthday to him even though he still wasn't feeling his best. He sure enjoyed that cake though. :) It made the whole evening better.
Kenidi with the new baby that Daddy helped her pick out at the American Girl doll store on Saturday. Her name is Julie and she is the new 70's love child character doll that they have out. We loved her bell bottom jeans, peasant top, and knit skull cap. It reminded us of something Kenidi would wear herself.
This is Brennen and Kenidi playing together inside the Nordstrom mall. Daddy was doing some clothes shopping for himself and while he was paying, we decided to snap some candid shots.
ABOVE: This is how I found Kenidi when I got out of the shower Saturday morning. I had to run and grab the camera. HYSTERICAL!
ABOVE: This is Brennen peering over the railing at the water tower shops mall Saturday.
BELOW: Brennen, Harrison, and Kenidi at the SHEDD aquarium yesterday afternoon.
ABOVE: A woman inside the tank feeding the fish, sharks and turtles at the Shedd aquarium. Below, you see Brent standing beside a big ol' fish statue.
And lastly, these were dolphins at the dolphin show we attended while at the aquarium yesterday. Simply gorgeous creatures!
So...it was a great trip. It is always so nice to get away for quick jaunts or vacations with the fam! I treasure every memory we make when we do things like this. With that said, I might also mention that on our way home last night, Brent and I witnessed a very horrific crash right in front of us on the highway. We were about 15 car lengths behind and one car between a small red dodge pick up truck that lost control somehow. We watched it flip end over end too many times to count and then roll twice over on its side until it came to a stop - upright - on its tires. It was the scariest thing I've ever seen and I only witnessed part of it. I was half asleep when I began to hear Brent go..."OH MY GOSH, OH MY GOSH....!!!!" I woke myself up thinking we were about to rear end someone or something. When I sat up in the seat, all I saw was this truck rolling from the fast lane across the highway over to the right side - end over end in front of us. It was like we were watching a movie and that it wasn't really happening. We slowly got stopped over on the left side of the road as did a couple of other cars and a semi truck driver. I grabbed my cell phone and immediately dialed 911. While I was on the phone with 911, Brent said he saw the gentleman in the truck move his head and try to push his driver side door open. Brent didn't feel that we were in a safe spot on the highway with two kids in the truck with us on a curve - immediately in dead line with an accident site. Therefore, he pulled away once I hug up with the 911 operator and once we saw other individuals running to help this man. I was up all night - off and on - praying for him. I don't know if he survived, didn't survive, was badly injured, walked away, etc. It just tore me up - inside and out - to witness something so horrific like that. As scared as I was, I was so thankful that he didn't take our car or someone else's out as he began to roll. It could've been a major pile up had we all not been spaced out like we were. I hated leaving him there - even though there were others stopped to help him. It just felt wrong. I kept telling Brent that all the way home. I couldn't have done anything for him other than the praying I was doing. However, it still felt wrong to leave him. I couldn't have left my kids in the truck while Brent and I tended to him though. It was way too dangerous. We saw the police one by one come flying down the other side of the highway as we got further away from the scene. I just pray this person was ok. I honestly don't know how he could have been though. The truck itself was demolished once it quit rolling. I'm unsure if he was older - younger - or what. We just didn't get a good enough look. Please pray that this person survived and that he is not badly hurt. It is moments like that in life when we are reminded that we
MUST
have our life right with God at all times. In the blink of an eye, life can end as we know it.
PS...HAPPY 200th POST!

I have the details of the contest and celebration all ready to go. I'm off to pick Kenidi up from school right now though. Check back here later tonight for the rules and the winnings. It's sure to be a good time!
Blessings, Angie