NO PICTURES PLEASE!!!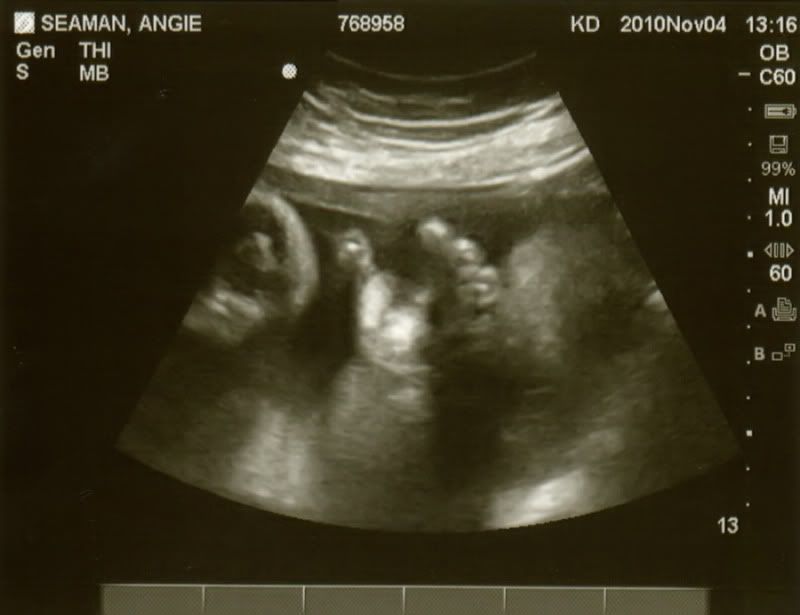 "No pictures please! No pictures please! The paparazzi just needs to back it up!!!"
Yeap, this is what I envisioned Baby Seaman saying as the nurse photographed him again at our 35 week ultrasound appointment this afternoon. As you can see in the photo above, he is holding his left hand up in front of the camera almost as if he is hiding from it. Like Mother like son, eh? Wonder where he gets his camera shy-ness from??? LOL!
All was well with baby and I at my appointment today. My OB said I'm making this too easy on her. I'm praying that things continue to stay uneventful over these last 28 days. I've never had ultrasounds this late in the game before and it is amazing how much they look like real babies instead of skeletal aliens on the ultrasound screen. He had changed and filled out so much just from last weeks appointment even. The nurse got a great face shot of him today (didn't get a photo of it though) and he was so formed and perfect that I sat there trying to decide who he looked most like. The image was almost like a 3D image. It was very clear - his cheeks and little face were very prominent and so easy to see. He had his eyes closed almost as if he was sleeping although he was moving around at the same time. It was crazy to me that the picture was so clear that we could see that his eyes were indeed closed. The nurse pointed it out and I just sat there floored and shocked at how perfectly I could see him. He was adorable. Perfect in every way. And the hand shot above...now how cute is that chubby/chunky little hand with all 5 fingers? LOVE!
Gotta' run for now. We are headed to Kenidi's horse therapy for the evening. Hope everyone is having a grand Thursday thus far. Good news is...tomorrow is Friday. YAY!
Much love, Angie
Labels: 35 weeks along, baby seaman, hand on ultrasound photo, pregnancy