HOW BOUT' THEM COLTS?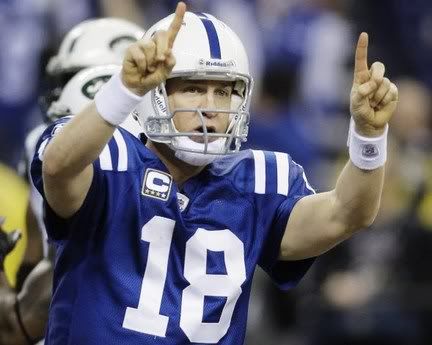 You had to know that I couldn't stay mum about the COLTS victory last night over the NY JETS. I'm so very sorry but it just isn't in me. I apologize now to all of my New York blog readers as well as to anyone else who might be a JETS fan. It's all in good fun, eh? Us Hoosiers had been waiting for the JETS to come back to town after that win that we "HAD" to give them a couple of weeks ago. We owed them a good butt kickin'! And although the COLTS gave me a bit of a scare in the beginning of the game, I decided to work work thru it by focusing on my laptop rather than the game during that stagnant part. :) However, in good faith, like they always do...the COLTS game back to show the JETS who was REALLY boss.
Peyton and the rest of the BLUE gang always manage to pull thru and this season was no different. I was so jealous of my Dad and Cathy who were at the game last night. My Dad said they had a great time. I knew they would. It was just another moment when I wished I had been "home." The town of Indy undoubtedly went crazy after the win last night as they are known for. Our downtown Indianapolis knows how to PAR-TAY after wins such as those. Then, the community bleeds blue and white for days/weeks afterward. I can only imagine what it looks like back home as they begin to prepare for our 2nd Superbowl in Miami. YAY FUN!
The really cool thing though...is that the COLTS not only won but the SAINTS won last night as well. I'm sure some of you "might" remember me mentioning Coach Sean Payton here on the blog before. If you click

HERE

, there is a really old post that speaks of him. If you are long time blog followers, you might remember the post. Sean is the head coach of the New Orleans Saints and he is also married to our old neighbors sister. (long of the short, he is our old neighbors brother in law) Therefore, we got to spend a few brief moments with Sean a couple of times when he'd be next door visiting. Brent spent some time with him and our neighbor downtown after the football Combine in Indianapolis a few years back and ever since then, we've been rooting for him and the SAINTS to go all the way as well. He has been very good to send Brent and Brennen autographed SAINTS gear from time to time too. We've greatly appreciated his generosity in that area. With that said, we knew that their family would have a ball if the SAINTS and the COLTS ever went head to head in the Superbowl together. So...we've been keeping our fingers crossed for them that the end result would be as it is. The blue and the gold going for the Superbowl title in Miami. And speaking of Miami, it is only an hour away from us here in Naples. I've considered heading down there just for the mere thought of some good photos ops the day of the Superbowl itself. Should any of you run across tickets, let us know. What fun that would be! Typically they are so hard to come by though. I know when the COLTS went to the Superbowl last time, it was tough for anyone to get tickets and if you got them, you paid an arm and a leg for them. :(
So...way to go COLTS and way to go SAINTS. I can't wait for February 7th to roll around. What a great game this is going to be. And in case you are wondering...even though we like Coach Peyton in this house...
We WILL be rooting for our Indianapolis COLTS to win the Superbowl title. And lastly, my stepmom (Cathy) sent me this photo below this morning. She took it last night while they were at the game. I thought I'd share it here. If any of you missed it, they stretched this flag out while Jordin Sparks was singing our National Anthem at the game. Then, they released a bald eagle to fly over the flag during the song. It was an amazing sight to see. Very, very cool. It really gave me chills to watch it. We live in an incredible country...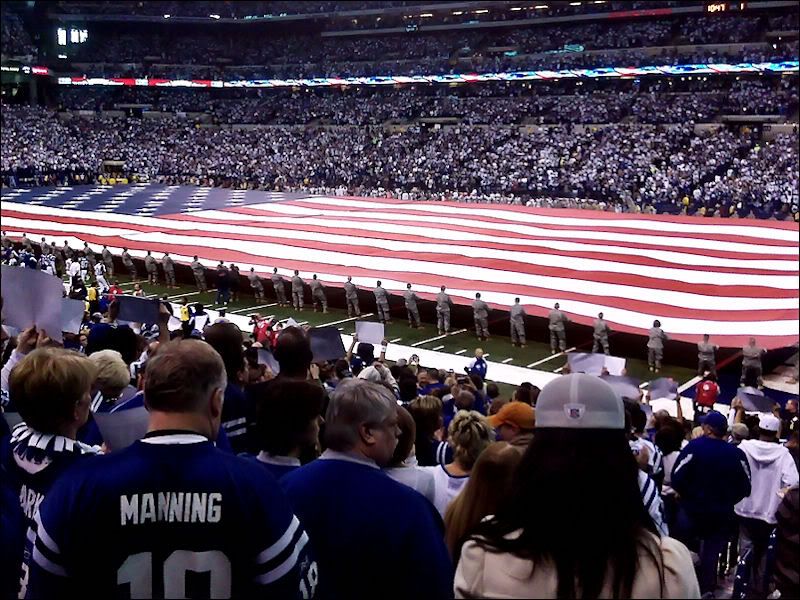 Happy Monday. xoxo, Angie
Labels: Indianapolis Colts, Miami Florida, New orleans saints, Peyton Manning, sean payton, Superbowl