THE ALMOST DELETED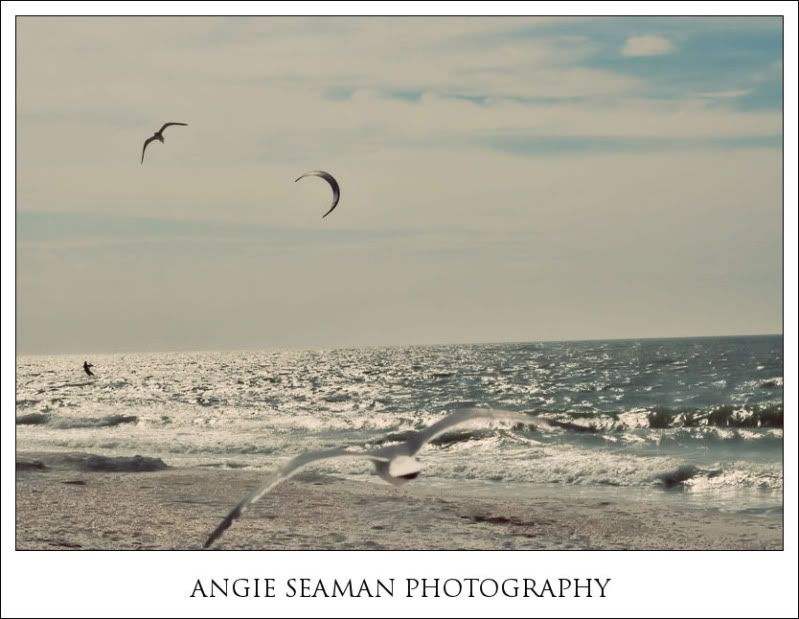 This one image pretty much sums up my emotions toward the beach.
Although a seagull flew right in front of my lens as I snapped the shutter, I love it still.
The birds. The wave caps. The glistening sun on top of the water. The wind surfer. The white sand. Blue skies. Cotton-esque clouds. It is the sea at its best. You can almost hear the seagulls a squawkin' and the waves lapping as you stare at the image. I shot this when I was at the beach with my Mom yesterday. It's always those clicks of the shutter which you think will be "trashed" when you get back home that end up being some of your favorite shots E-V-A-H. Because of the bird crossing in front of my lens, I almost deleted it. However, I have this hard and fast rule that I NEVER delete an image on the back of my camera until after I've gotten home and uploaded it to my computer first. It is because of the way I fall in love with the "scraps, the trashed images, etc." that I can't bare to hit the delete button until I've seen them on my computer screen first. This image was no different. I'm so very glad that I opted to hang on to it for a few more seconds before ultimately trashing it.
This desolate piece of beach property was my Mom's and my haven yesterday. It was breezy, peaceful, sunny, and as vast as the eyes could see. The golden rays of heat left me with just enough color to prove I'd been there for the past two days.
I was told that Indy has had some snow flurries fall there today. With that said, I'd just like to take this moment to say..."Thank you God for Naples, Florida!"
xoxo, Angie
Labels: Bonita Beach, Florida, Naples, the almost deleted