KEEP CALM IS KEY
I have a tee that reads "Keep calm and carry on." (shown above) It is in my all time favorite color and I just adore the slogan on it. The famous phrase on the tee is a reproduction of the vintage WWII era poster. Some background in case you aren't familiar with it...

In the spring of 1939 a looming war with Germany was on every one's mind. The British Government's Ministry of Information commissioned a series of propaganda posters to be distributed throughout the country upon the outbreak of war. The posters were initially printed to send a soothing message from King George VI to reassure his people that all capable measures to defend the country were being taken. During wartime, it was important to try to keep the public informed, and as free from panic as possible. This phrase is a reminder to some to keep your head up in these current day times just as it was a reminder back in 1939.

Again, I love the tee for it's awesome color as well as its outstanding wordage. We can all use a little reminder to keep calm and carry on from time to time, eh? I know I did over the past two weeks while battling the issues with my heart scare.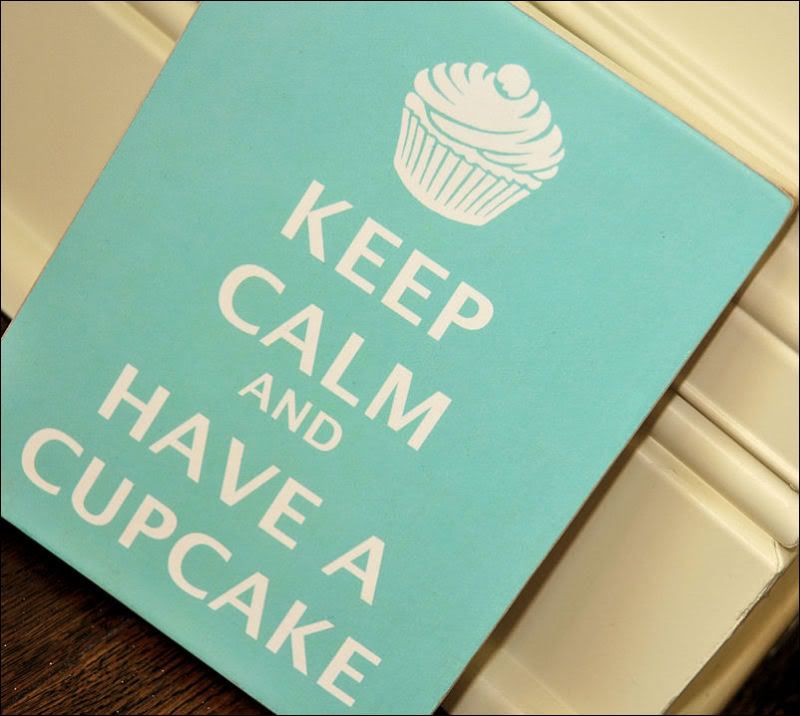 Well...with all that said...I had to share what one of my blog readers sent to me last week. (Thank you Lindsey!) She sent me a sign that is meant to replicate that famous phrase I talked about above but instead...it has to do with staying calm and eating cupcakes. Ha ha! Too funny! I love it. I have it sitting in the window sill of my AGD studio now. It goes perfectly in there with all of the pinks and greens and turquoise colors. LOVE LOVE LOVE it.
My blog readers ROCK! Yes, you guys just ROCK! I can't thank all of you enough for the support over the past two weeks. I have had many of you email me personally inquiring about the final outcome of my holter monitor test as well as the blood sugar and cholesterol test they had me take following the heart echo, EKG, and stress test. I got those results back from my cardiologist this past Friday and all was well. Yes, God is good. Your prayers worked - without a shadow of a doubt. My cholesterol was good, my diabetes screening came in at a 5.5 and the doc said as long as it stayed under 6, she was fine with that for now. And the holter monitor...it didn't show anything that we didn't already know or suspicion - which is awesome! I wore that monitor at home for 24 hours so I was praying that nothing new popped up on the test once they reviewed it. I serve a big, big, God. I've been humbled beyond belief via all of your love, prayers, and support for me. Your words of encouragement by way of those emails and private facebook messages mean more than I could ever begin to describe. My heart medication is helping which is a good thing. I still have some bouts of the palpitations and some sleepless nights but it is nothing in comparison to what it was initially. The cardiologist has said that she might need to up my dose on that prescription to control it completely but she wanted to start low and work from there. I see her again next Tuesday for a follow up. This morning I saw my brand new family doctor that the Emergency Room referred me to when I was there. I love her! She too is an awesome doc with a great personality. She decided to prescribe me some ambien to help get me to sleep thru the night in the coming weeks. I'm not real keen on taking it so it will be a new thing for me. However, she is right in regards to the fact that I can't get better or improve if I'm not getting rest at night. I stressed to her that I'm not a pill girl and didn't want something that was going to make me loopy or unable to wake up the next morning. Because of my concerns, she ultimately just gave me 5mg's of the prescription rather than the normal 10mg's to start. We'll see how it goes. I had the prescription filled this afternoon while out so I pray it doesn't jack with my system when I take it tonight for the first time. I don't even like Tylenol PM. Makes me feel strange. Just too weird for me.
So...all in all...things are looking well. Prayer works my friends. I know with every cell in my body that it does. I got an email from Heather today regarding her update from the post we did for her over on the

AGD prayer blog

. She had a lump in her throat and had to have it biopsied. Thankfully, praise GOD...she got the call yesterday that the lump was benign. Prayer works my friends. Prayer works. If you have a need and want it posted to the prayer blog...shoot me an email. I'll get it up and on there as soon as possible. I have a couple of updates to do over there as well as a new prayer request for a child to add too. I'd be more than happy to add your prayers and praises as well. For now, I'm off to enjoy this superb day today. It's 70 degrees and sunny here in Indy this afternoon. What did us hoosiers do to deserve this? HA! I've been spring break shopping this morning and out and about shooting with

big papa

today. What a skip I have in my step. YAY!!! Life is good! The kids are about to get off the bus as I type so I'd better run. I know they'll be pinging off the walls to be outside as well once they are home. Can't say that I blame them today. Talk again tomorrow...Hugs, Ang
Labels: Keep calm and carry on, keep calm and have a cupcake