SO GRATEFUL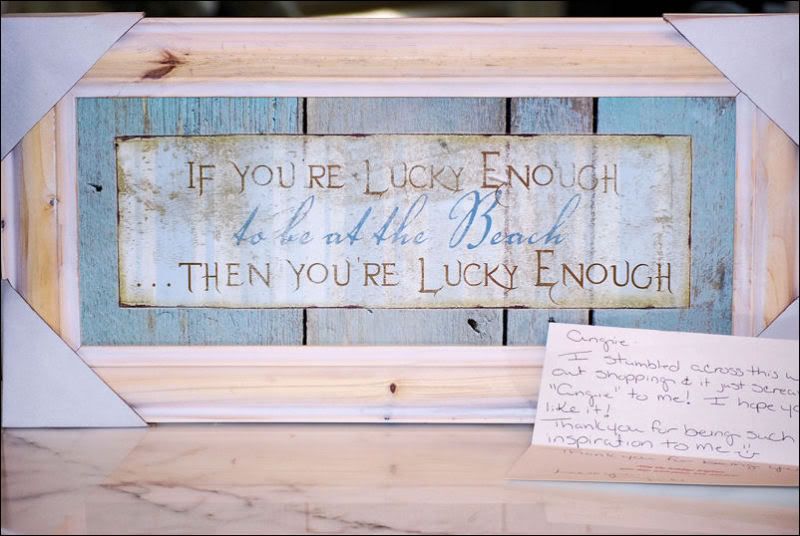 Oh Lord God...please bless my incredibly awesome blog readers today. I truly have the BEST - and I do mean THE BEST blog followers in this world. I mean that with every fiber of my being. Last week, my mailbox was full again. Actually, my mail lady had to make a couple of runs to my front door to drop things off. And yes,

I was fully clothed and not on the ground taking pictures in my robe inside my foyer when she came knocking

. HA HA!
Back to point...I got this awesome wall picture from my dear sweet friend

Vicki

out in Connecticut last week and I just fell in love with it. Vicki has been an AGD customer of mine for years as well as a treasured cyber friend. She is a phenomenal mother who raises 7 children and three of those children have prader willie syndrome. She adopted two of those children with PWS after learning that her own biological son had PWS. So...as you can imagine, Vicki has been a great source of inspiration to me as she raises her own children with special needs as well. I have always considered Vicki so knowledgeable, so giving, so genuine. You can imagine the surprise and the humble emotions I felt when I received her card in the mail that read..."Thank you for being such an inspiration to me." Vicki girl, you have that backwards. You are the inspiration to me sista'! Your strength, your courage, your faith - everything keeps it real for me. I love that about you.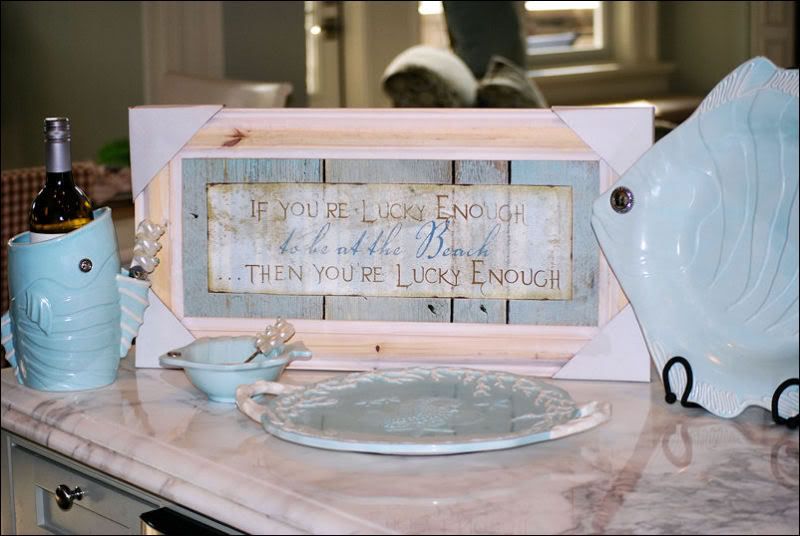 The really neat thing about Vicki's wall picture she sent to me is that I found the perfect spot for it. It matches my walls and my decor around it perfectly. As you can see by the above, it couldn't go with my accessories in that area any better. I pulled them all out and sat them around the picture before I hung it so that you could see how great of a job you did Vicki. This is actually hanging in what they call the Butlers pantry in our home now. It is the breeze way or pass thru from our formal dining room to our kitchen. I just love it. And you are right, it SCREAMS Angie. Thanks for being you girl. Really. You soooooo shouldn't have done this. Big hugs and many, many thanks Vicki.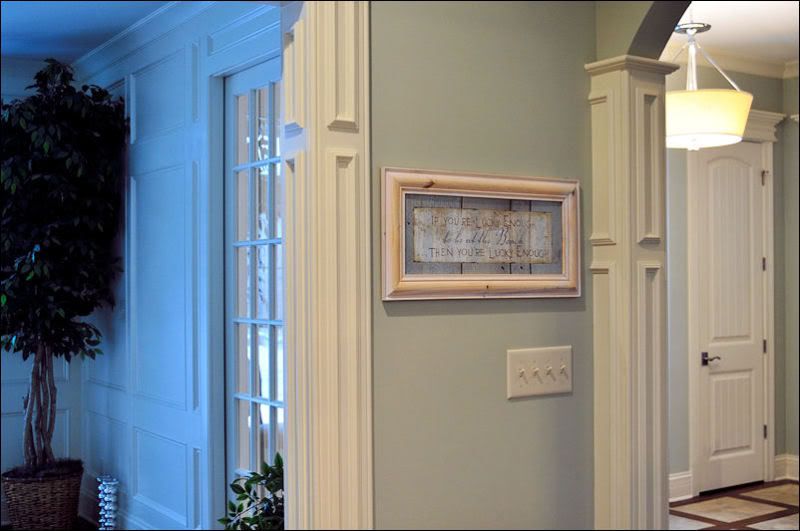 And before I sign off to finish packing today, I thought I'd share this adorable gift that my cyber friend Janae sent to us last week too.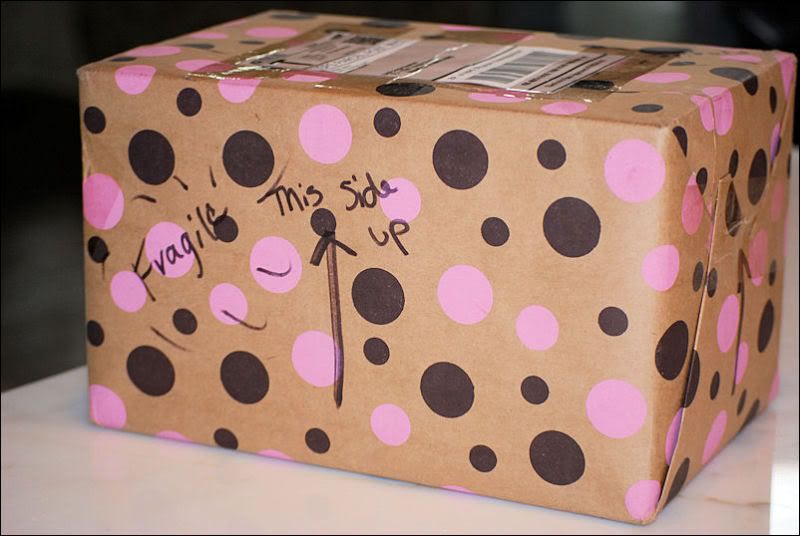 The little box it came in was wrapped adorably. I had to share that part as well. Inside Janae had sent me some driftwood branches/twigs that are used for decor things regarding my beach themed items. I love sitting them down inside my apothecary jars and such. They really give off that beachy feel when added to anything. In that same box was this adorable little wand for Kenidi Grace. Can I just tell you how cute this looks in her room? I put it down inside a pink flower pail that I keep in her bedroom and it sticks right up out of it like a flower. We love it.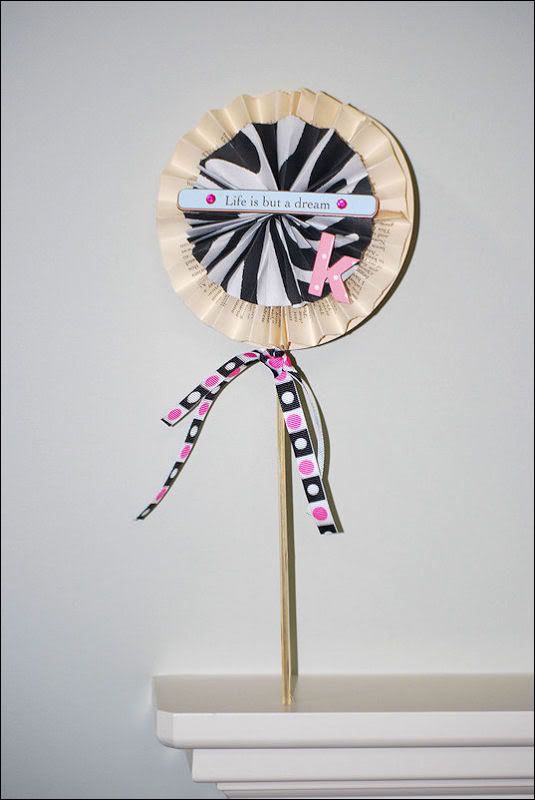 Thanks Janae. This is the sweetest thing ever. Zebra, pink, a "K" on it...it's just perfect. You are too good to us girl. This is right up Kenidi's alley and so perfect for her room. Many thanks to you as well sista'!

And lastly, I also got some really neat gifts from my dear friends out in Alabama yesterday. You know the Bryant family? Bailee? Unfortunately all of my equipment and gear is packed up & ready for our flight tomorrow morning so I didn't get the chance to snap pictures of those gifts they mailed me. However, I'll be lathering myself up in the awesome goodness they sent to me as well as keeping my tootsies warm with the awesome and oh so comfy foot socks they sent to me. The best part about their gift was the homemade cards from Bailee and her sister Brooklyn though. I must admit, I cried when I read them. Shocker - Angie crying? NEVAH! But yes, I did. I told Rhonda (their Mom) that I added the letters/cards that they made me to my blessing box. It is where I keep any and all old letters, cards, etc. that have been given to me by those I love. Thanks Bryant Family, you girls are too sweet - and in big trouble for sending me all that! Ha ha!
For now, feel free to check out one of the only images I've had time to capture on my new camera, Big Papa, last night. You can see it over on my photography blog - by clicking HERE. It's a very simple image but one that reflects my moment last night. If you compare its crispness to the other images on days below it, you'll get a good feel for one of the big differences between ol' Razzi and big Papa himself. Stay tuned though, come tomorrow, I'll be sharing a lot more "significant" moments via those images with "Papa" once we touch down. This will most likely be the last time you hear from me until late tomorrow night or Saturday morning. However, I shall return - as promised - with the goods. Ha ha! I also ask, like always, that you pray for safe travels for us as we fly out of Indy tomorrow into South Florida. We should land around 12:30pm tomorrow afternoon if all is on time.
I love all of you guys. Enjoy this last weekend of shopping before the Christmas holiday. God bless! ~Angie
Labels: personal