JUST SHARING...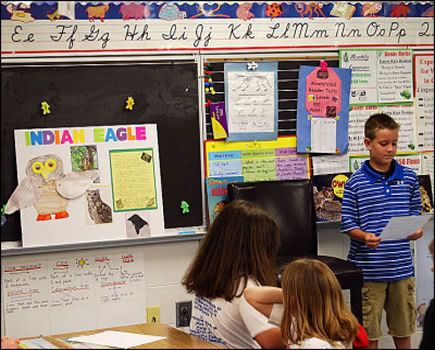 Hi all. I just wanted to share a quick few pictures of Brennen and his buddies over the past few days. These first few are of him up in front of his class doing a presentation on his owl research that he did. Proudly, he got a 22 out of 22 A+ on the report and presentation itself. YAY!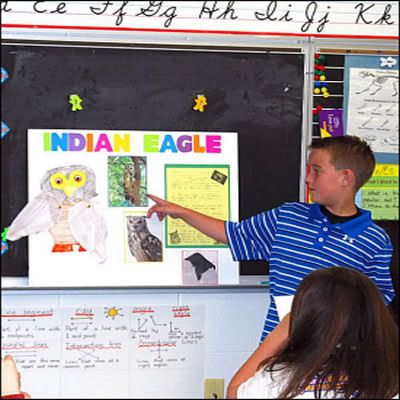 BELOW: Here he is in the photo below taking questions regarding his owl and being the little "stud" that he is.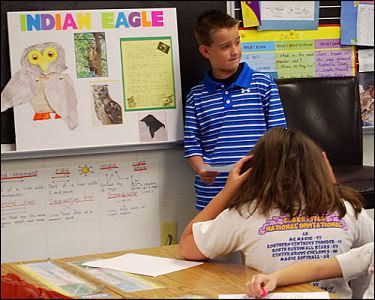 He is ssoooooooo not my child. He looks so comfortable up there in front of that class. I shook like a leaf for him while he stood poised - calm - cool - and collected up there. I was always absent (on purpose) back in the day when I had to get up and give a report in front of the class. I despised public speaking and still do. I gave my testimony to hundreds of women at church one day after being asked by our women's ministry leader to do so. I literally thought I would die in the days leading up to that event. I drove myself crazy over the worry and anticipation of getting up in front of all of those women. I never felt qualified enough. During the moments of total fear leading up to the day itself, I had an old friend tell me this:
"God doesn't call on the qualified. He qualifies the called." It was that one statement that lead me to survive giving my testimony that day. Believe it or not, that was only a few years back too. To this day, giving my testimony in front of those women that morning was one of the most exhilarating, humbling, and fulfilling moments of my life. Funny how moments of fear become moments of comfort with God's grace. Remember what Patrick Swayze said on the movie Point Break? I think it went something like this....
"Fear causes hesitation, and hesitation will cause your worst fears to come true."
After I stopped hesitating when trying to decide whether I'd answer yes and go forth with giving my testimony that day, everything then fell into place - as though it was just meant to be. Looking back on that day now....I know it played out just as God had wanted it to. I had over 25 of my closest girlfriends and female family members there to watch me give my testimony and support me plus the too numerous women to count that were part of my church congregation who supported me as well. Even years later, I have women I barely know who attended the ceremony that morning and who now remind of the moment when I gave my testimony and tell me what an inspiration it was to them. To me, it was a jumbled up mess. To them, it soooo wasn't. Again, it played out just as God wanted it to.
God doesn't call on the qualified, he "qualifies" the called. Do you feel him nudging at you recently to do something you are fighting? Maybe you are in preparation to be "qualified" and just need to stop hesitating about it. ?????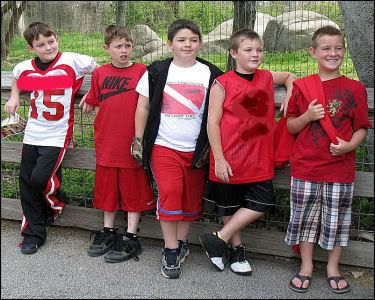 On another note, (sorry I got off track there), I had the privilege of spending the day with my handsome son at our local zoo today for a field trip with him and 4 of their third grade classes. I love the one on one time I get with Brennen because it is rare that he and I get that time anymore now that he has a sister - especially a sister with special needs. Therefore, any chance I can get to spend time with just he and I, I take it. Although I must admit that riding a school bus with 50 something kids is not the highlight of my day. The whole entire ride back home on the bus had me dreaming of the moment when I could rush in the door to my house, fling open the Lenin closet, reach for and then down a bottle of Excedrin migraine with one gulp of a nice, big, fat, cold, mountain dew.
These three photos above are of Brennen and some of his buddies on the field trip today. Brennen is the one in the plaid shorts. Sorry for the blurriness on some of the boys tees, that is my artwork at its finest for reasons of my own.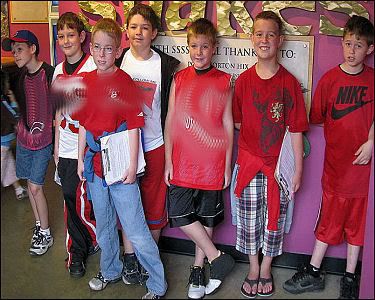 So, after the busy-ness of the past week and a half and after today's craziness on a field trip with a ton of 3rd graders, I plan to hit that bed tonight and crash like never before. It's 8:30pm right now and I'm counting down the minutes until I can lie down in our bed and watch another new episode of Greys Anatomy. Oh yeah - now that is what I'm talking about. :)
Stay tuned for tomorrow's exciting events and pictures. I'll post all of them sometime on Saturday possibly. Also, I have several new favorite finds that I stumbled upon while out shopping yesterday that I just MUST share with you. The "love list" (as Beki puts it) is coming your way very soon.
PS...Thanks for your patience with the FTP server issue's I'm having. As you can see in the photos above, my pictures are all jacked up and not near as crisp and clean because of the way I'm having to upload this stuff via HTML code rather than the normal way. Did I mention that the HTML coding takes 5 times as long to do too???? GRRRRRR!
Thinking positive and remaining calm, Ang