FRIDAY'S FAVORITE FINDS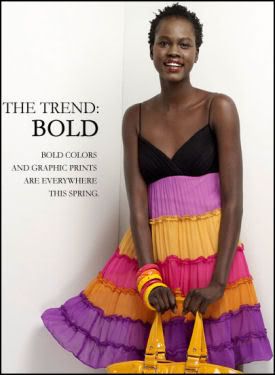 Friday's favorite finds - the "love list" - as promised - here we go...
Up first is this gorgeous little summer dress that just screams "BOLD." Thanks to my sweet, sweet, friend Nicole, I have now found a new dress to wear to a charity event that I'm participating in and attending on Thursday of next week. This little number is nothing short of adorable. I love, love, love it. Nicole sent me the link to it and said that the bright bold colors reminded her of me. She was soooooo right - it is totally me. I also love the dooney & bourke handbag that Dillard's has paired with it in the photo above. Thanks Nicole. Your the best!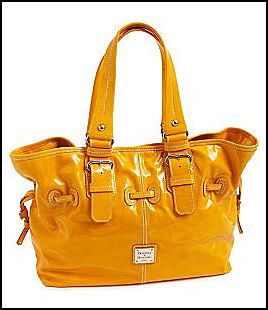 Again, both the handbag and the dress can be found online or at your local Dillard's. Boy do I love Dillard's. As most of you know, it is truly one of my all time favorite stores.
ABOVE: I found these adorable new black heels by Steve Madden at Macy's and fell in love with them. They are so adorable on the foot with a rockin' pair of jeans. Great peep toe look for Spring and Summer.

ABOVE: Can anyone say LOVE, LOVE, LOVE? I am ready to shout with joy over this new trench coat. The best part? It's interior is lined in hot pink satin. UH HUH! So me! This jacket is too cute on and again...goes great with rockin' jeans or with a nice pair of black dress pants. It can be found at Bebe.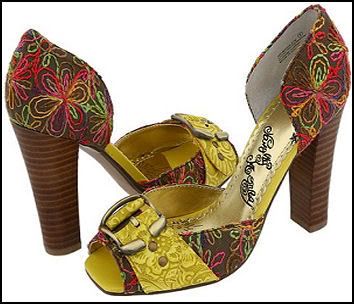 ABOVE: OK...can we all just lift our hands together and pause for a moment of praise in regard to the God's that designed these shoes above? I have found a brand new shoe line that is at the top of my fav's list as of last night. The shoe designer is "Naughty Monkey." These funky and oh so spunky heels are crazy cute. They are multi-colored and go with a variety of color combo's. And yes, another stunning peep toe that screams adorable once on the foot. Naughty Monkey shoes can be found at Von Maur, Nordstrom, Zappos.com, etc. Wait until you stumble across the other styles they have out for spring. Oh I love them so much that I just want to eat them. For now, I'll just sleep with them on my feet. I once did that with a pair of big bird/sesame street tennis shoes that I got as a kid. I literally loved them so much that I slept in them and refused to take them off. I remember it very vividly. I couldn't have been but maybe 5 r 6 years old. I should have known then what a new pair of shoes would do to my soul. HA HA!

ABOVE & BELOW: Next up, this favorite find is a purchase that will make you squeal with delight. You know me and my obsession with all things Ed Hardy, right? And you know me and my obsession with sunglasses and coats, right? Well, beings that Ed Hardy and I are so tight, I fell hard for his new line of sunglasses that just came out about 2 days ago according to the sales lady at Von Maur. These sunglasses have caused many compliments and provoked many questions regarding their origination and where I got them each time I wear them. I purchased the dark coco color shown below but I also posted the black pair for you to see also. These pictures DO NOT do these sunglasses justice. They are so eclectic and so unique in person. They are literally encrusted with rhinestones - everywhere. Love bling? If yes, then you will love these. They blind you out in the sun because of all the rhinestone details in bright, bold, colors. Every angle catches a ray of light and sparkles like nothing you've ever seen before. Not only that but the case they come in is incredible too. I've mentioned how much I like packaging and how much I adore people who market their products in cool packaging. Ed Hardy is the epitome' of rockin' marketing with his packaging techniques. The case these bad boys come with is a huge leather holder embroidered with pink skulls and roses all over it. It's all so funky that I can barely stand it.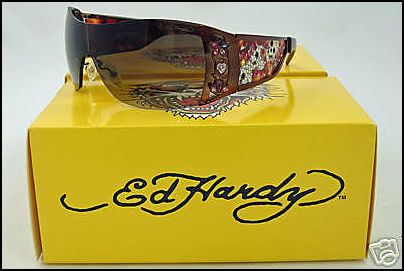 BELOW: Lastly, I'm not much of a Jessica Simpson fan anymore. Simply put, I'm "team Nick." However, since she has introduced her new shoe line, I will say that her designs have often caused me to take a second look. This time, I did several second looks, a few double takes, and eventually brought them home with me. These go back to that bold color scheme for Spring. These paired with a kickin' jeans, a Kelly green top/blouse, and a mustard colored hand bag would be perfect warm weather attire. I'm a sucker for anything with chunky buckles on it too.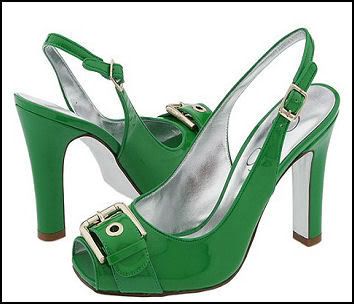 Today's fashion 101 lesson...never be afraid of color and always go BOLD or stay home. Hope you enjoyed the newest edition of Friday's favorite finds. Happy shopping, Angie